Night Markets in the Dordogne
Night markets run during high season which is July and August. They are a community gathering to share a meal and enjoy the atmosphere. Vendors offer a variety of local dishes, deserts, delicacies and kid friendly food.
Only a few of these have a traditional farmers market for you to wander through on the night also offering fruit and vegetables and local produce. If your looking for Fruit and Veg we suggest you google the local market sites to see their format before going. Start times vary, but on the whole run from about 6pm to midnight.
Below is a really handy table to help you plan your stay. Us this with Google maps to make a plan. The night markets are great fun and the atmosphere is like a dinner table with friends (From all over the region).
Monday
Montignac, Beaumont, Castelnaud-la-Chapelle, Couze-et-Saint-Front, Saint-Estephe
Tuesday
St Amand de Coly, Bouzic, Le Pizou, Eymet, Champagnac-de-Belair,

Mauzac-et-Grand-Castang

, Varaignes
Wednesday
Perigueux,

Rouffignac-Saint-Cernin

,

Belves, Saint-Mesmin

Thursday
Saint-Cyprien, Issigeac,

Badefols-sur-Dordogne

, Loubejac, Meyrals, Nontron,

Verteillac

, Eymet (Parc Gabriel Forestier)
Friday
Les Eyzies, Le Buisson, Valojoulx,

Salignac

, Sigoules, Peyrignac,

La-Chapelle-Gonaguet

,

Brantome

, Villefranche-de-Lonchat
Saturday
Audrix, St-Pompont
Sunday
Monbazillac
Please check with the tourist office in each village as these markets do not run weekly.
A Look at The Belves Night Markets
Belves Night Markets – Marche Nocturne
Not your traditional Markets where you wander around pursuing brick a brac, trinkets and souvenirs from the region. During summer Belves hosts a Marche Nocturn which is more like a feast. Its great fun and delicious.
Long tables are set up under the Halle Medievale (15th Century Market Hall) draped in white cloths with bench seats. Vendors surround the market square offering delicious french gourmet cakes, sweets and biscuits while others offer local Dordogne specialties or Salads, roasts and Quiche.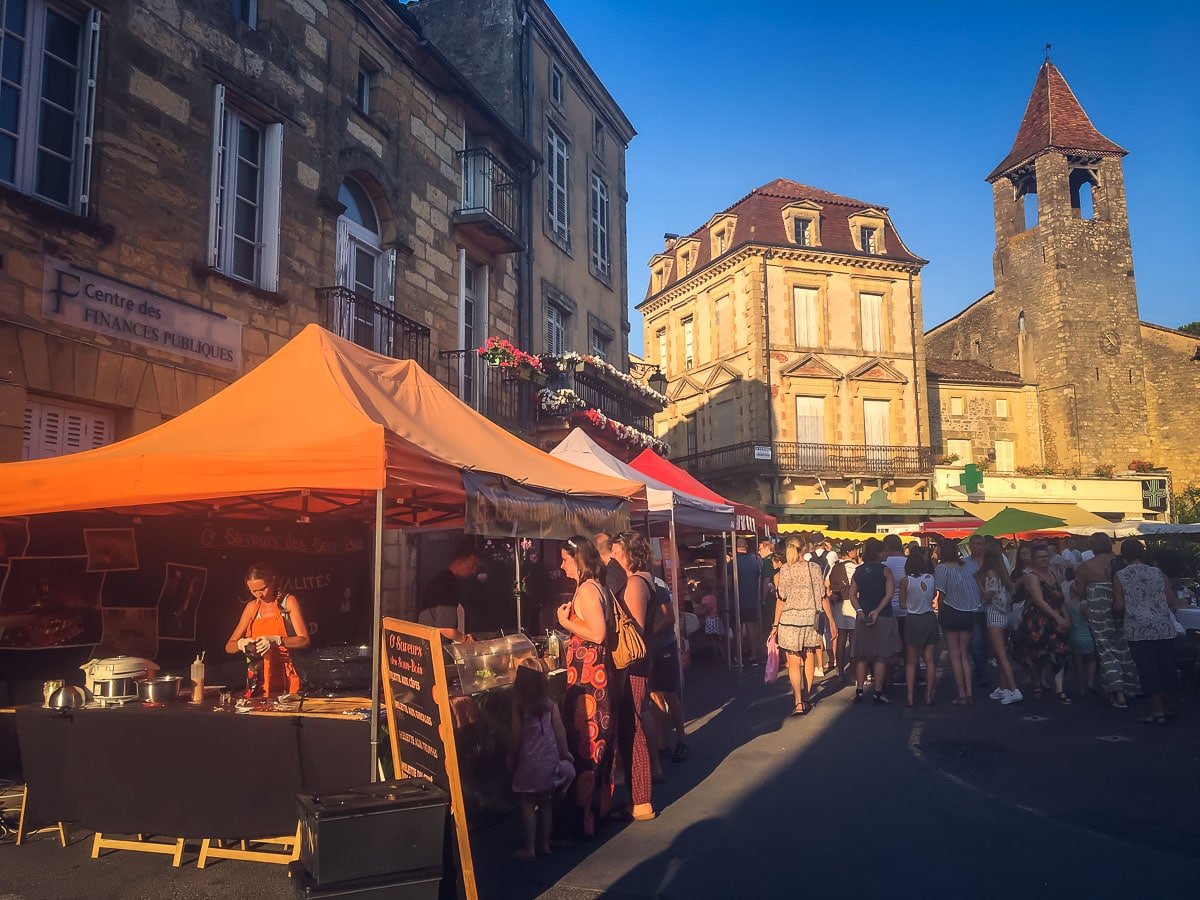 Its a truely delightful experience choosing your dinner, sitting with the locals as you drink a glass of wine and listen to the live music.
Something for the Kids at Belves Night Markets
Kids will enjoy a multitude of options that will suit their taste buds, or you could choose to encourage them to do a Food Safari and enjoy a french delicacies like Escargot.
Where is Belves?
Located in the southwest of France in the Dordogne Departement. Belves has the prestigious title of One of the Most beautiful Villages in France. Better known in France as Les Plus Beaux Villages De France .
When is the Belves Night Market?
The Night Markets are held every Wednesday evening in Summer (July and August) and start at 7:00 pm. I would suggest getting there earlier around 6.00 to get a park and a seat
What to bring to the Night Markets
The market has everything you need to enjoy a great meal out, however many locals bring their own Utensils, Plates and Drinks. There is a movement to minimise waste at the markets and to be environmentally friendly. We applaud this initiative. Bringing your own plates and cutlery creates a homely feel and really works to create the climate of a family meal. See how we have tried to reduce our environmental footprint using filter water bottles.
To make a great evening bring the following:
You can buy all these there, but it is cheaper if you bring your own.
Saturday Farmers Market in Belves
Belves also hosts a more traditional Farmers Market on Saturday Mornings under the Market Hall in the Old town. Here you can buy local produce from around the Dordogne Region and crafts made by local artist.
Read about the Other Dordogne Villages awarded the title of The Most Beautiful Villages in France

What to do In Belves
Belves has all the charm and atmosphere of a traditional old bastide. The 15th Century Market hall sits proudly in the centre of the town square and is home to the Marche Nocturne (Night Markets). This town has an ample supply of quaint shops and eateries, but it is worth walking to the edge of town to see the beautiful vista out over the valley.
Some of the Buildings in Belves date back to the 11/12th century, however its biggest attraction are the troglodyte (cave) dwellings. You can do a tour of the caves with a guide. It is well worth the effort.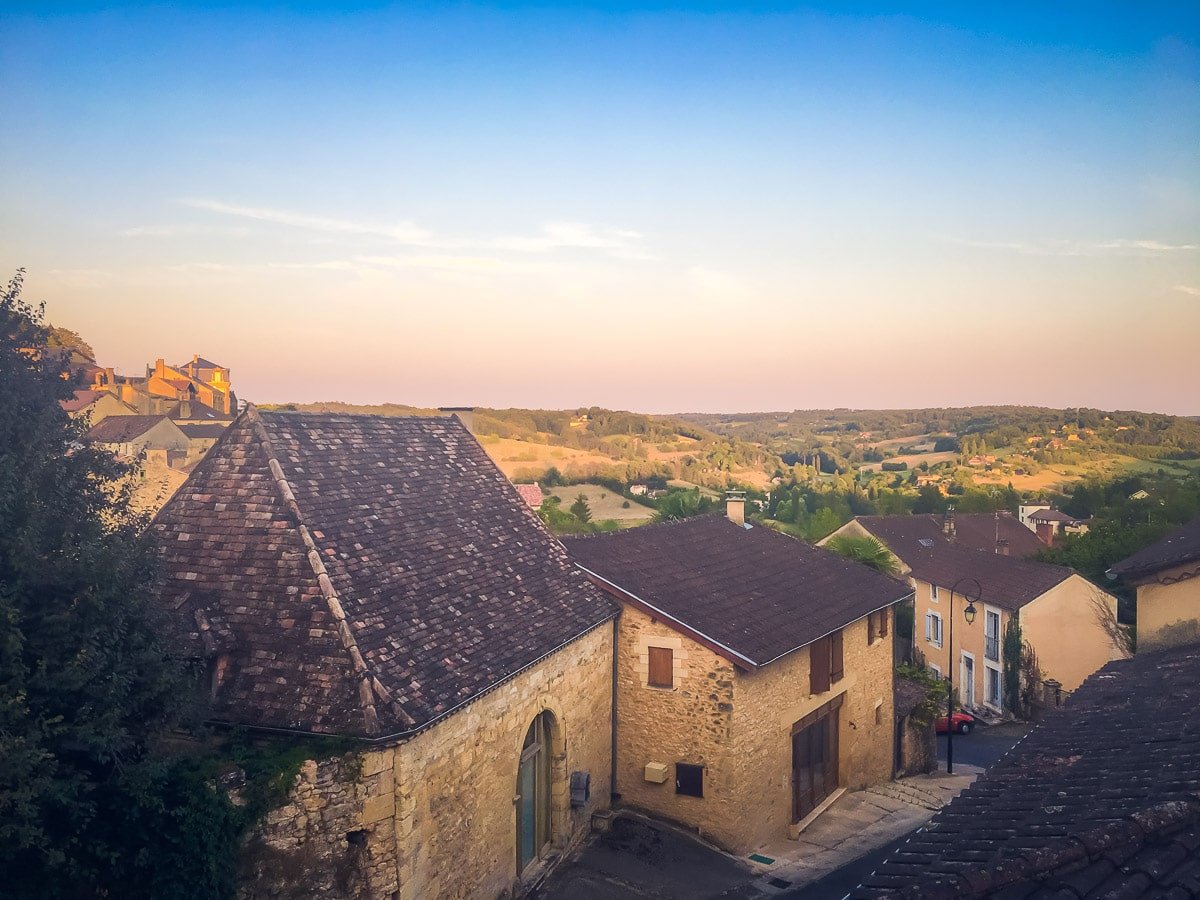 Looking for Other activities in the Dordogne Region?


Enjoyed reading this post? Pin to read again later!