Gouda is great fun for the family and worldschooling. Why? Because, what kid does not love cheese? Ours all do, and (to be honest) so do I, therefore Gouda, pronounced How dah, was anticipated with an air of excitement.
This gorgeous town has a great history all tied up with Cheese. Therefore making it the ideal spot to do some worldschooling. Learning and eating go quite nicely together! Gouda is located in South Holland, a Midwest province of the Netherlands and famous for… you guessed it. Cheese!
Gouda Town Square- Cheese Market (Thursday Mornings in Summer)
Gouda has the most delightful town square with its Town Hall built right in the middle of the market place. A peek inside will cost you a budget friendly €2.50. The Carillion (like a moving music box) on the outer wall, will delight the kids as the mechanical puppets move to the sound of chimes. From the Town Hall which is located in the centre of the main square, you can see the whole market place.
This is an ideal spot to have a lesson in Economics. Did you know that Gouda was not always known for Cheese as it is today. Many areas made the type of cheese now known as Gouda, so why did it become synonymous with this town?
Well, Gouda won the rights to act as the official weighing point for this Cheese. Producers from all around were required to bring their cheese to Gouda to gain its official weight and therefore market value (depending on the day).
Kids are smart! So once we explained to them that the only place people could officially weigh their Gouda cheese was in Gouda, they understood very quickly how that could make this little town very important. Now, hundreds of years later, Gouda is known all over the world because they were given this specific right (license) to weigh Gouda cheese. Maybe one of my kids will see the benefit in claiming the rights to an important economic measure and be kind enough to look after me in my old age!
Worldschooling in Gouda – De Goudse Waag
There are fun ways to learn more about Gouda, cheese and economics just across the market square. The Tourist Information Centre is housed in the original De Goudse Wagg (Weighing House). Visit the Cheese and Craft museum (€12.50 family ticket) were you can chat to the English speaking guide who will engage the kids in the interesting history of cheese making, Gouda and the weighing house. On the top floor you can watch a video on how cheese and butter are produced. See and read about the instruments used to hand craft cheese, smoking pipes and candles.
If your worldschooling you can also incorporate a quick Biology lesson on how cultures alter milk, then stop by the shop downstairs to sample a few of the local cheese's. I think we sampled every one on the counter and you should try the aged and nettle Goudas at a minimum.
Economics, Science, Maths, languages and Social science all in one place!
Kaaswinkeltje Cheese shop and all the shops on Tiendeweg
Just around the corner on Lange Tiendeweg 30 is a brilliant little cheese shop called the Kaaswinkeltje. Staff at the shop are excellent at guiding you through local, small and large production cheeses, including black, red, blue and green cheeses. Non-Pasturised, limited production cheeses are Kasswinkeltje specialty. Many countries do not allow non – pasteurised milk to be used in cheese production or to be honest at all. However, the flavour from these (non – pasteurised) cheeses is something special.
The team at Kaaswinkeltje will show you some of the best, you'll be sure to want to take some with you. Food is an awesome bridge to connect across generations and cultures. So much fun and its not hard to engage kids when there is food on offer. Drop by and try it at this funky little cheese shop, cause you wont find it anywhere else and if you do, it definitely won't be as good as having it in Gouda…
There are also many good food, clothes, books and trinket shops on the Tiendeweg. Stroll along for an hour of musing, tasting and shopping therapy.
Punselie Cookie Company
The Syrup Waffle is somewhat a national treat in the Netherlands and Gouda has a large scale factory hidden away a short walk from Tiendeweg, so we couldn't miss an opportunity to visit the Punselie Cookie Company. Once or twice a month you can do the Tour of the factory for €7.50 pp including coffee and their famous biscuits. The Punselie team show the warm dutch hospitality and kindness. If you can plan your trip when this tour is on you wont regret it!
Our experience highlights one of the things we love the most about the Netherlands. Its the kindness of the people. We visited the day of a huge storm, the streets were empty and the shop was closed. Not to be put off, we decided to trundle around the back of the factory anyway and ring the bell. We were welcomed in anyway as the owner explained that the tours had been cancelled due to the weather. We watched the cookies coming off the conveyer belt and being packed whilst smelling the aroma of hot biscuits. Yum Yum!. Furthermore, we left with Free cookies. Now its the kids favourite attraction in Gouda.
Lolly shops that dot the old town
Gouda's old town has a large variety of lolly shops. We couldn't bypass them all without trying out some sweet treats. So we selected Jamin on the main market square, which has a beautiful color-coded display of lollies and the largest selection of licorice you will ever see! Give your kids €2 and watch them marvel over which Lolly's to choose.
A guaranteed smile making experience.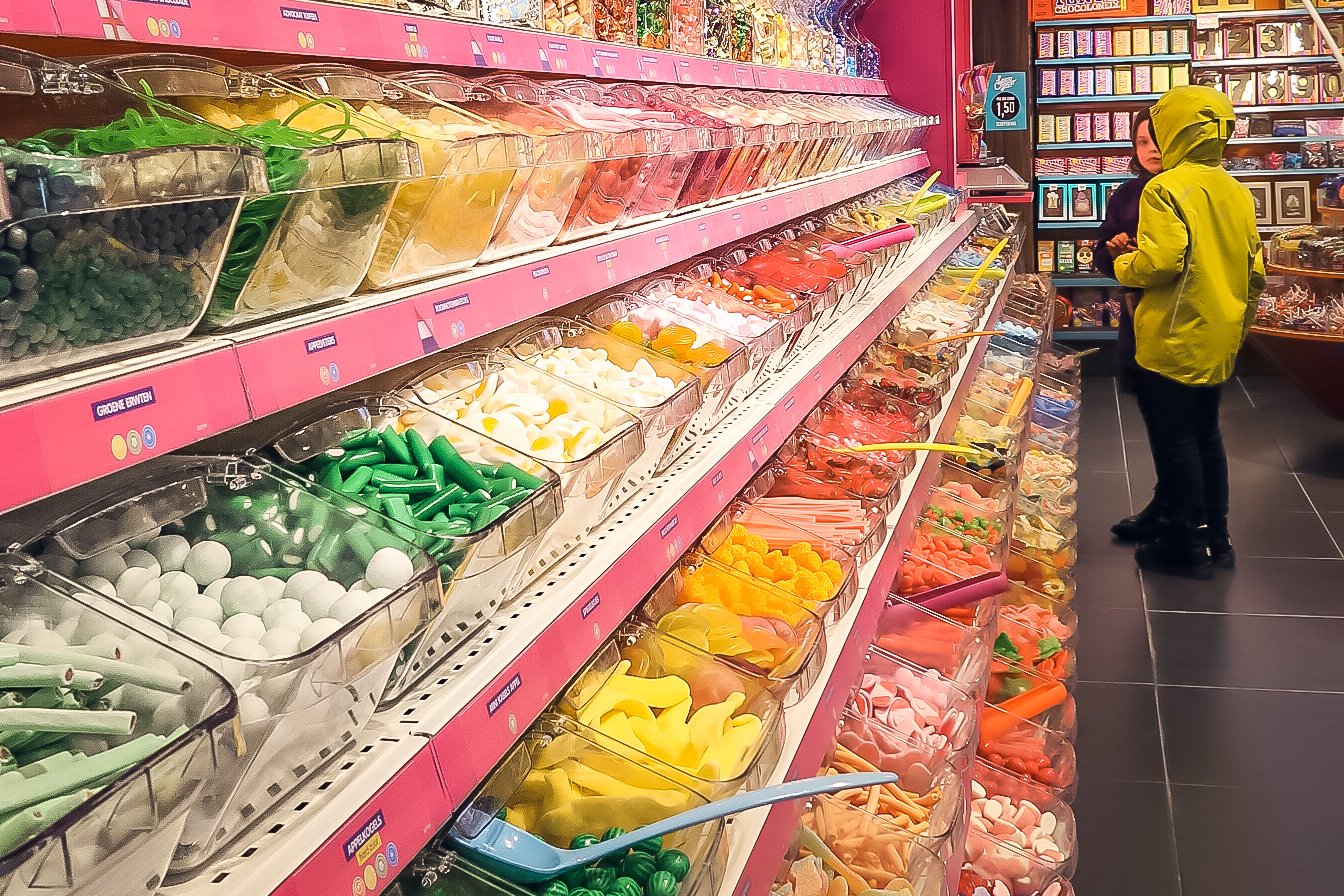 Coffee: De Chocoladefabriek
Coffee can be a contentious issue and I know there are other good coffee spots in Gouda, but… I think you'll enjoy De Chocolade Fabriek (Chocolate Factory) for a little down time. It is located at the end of Tiendaweg across the canal bridge.
Home to a large funky library with quiet areas and industrial booths for you to enjoy a good read, the Chocolade Fabriek makes a great coffee and the staff are really friendly. It's a definite win, win spot for you and the kids. The children get to read books and use the free WIFI while you get to enjoy a chat and a great cup of coffee.
If your motorhoming like us, there is a large parking lot right next door at Klein America which is super convenient.
For a great culinary experience visit Gouda, with a little history thrown in too. Then there is cheese, biscuits, Lollies, Coffee….What more could you want?
If your visiting Amsterdam, check out the best things to see on a weekend in Amsterdam with the family.
Found this post helpful? Pin to read again later!
This article has taken me several hours to create and edit so I'd love to hear your feedback. Please let me know what you think of my tips by posting in the comments below.