Visiting Dalmatia in Croatia and need a great place to stay on a road trip for some rest and relaxation? Camping Stobrec Split is one of the best places to stay in Croatia.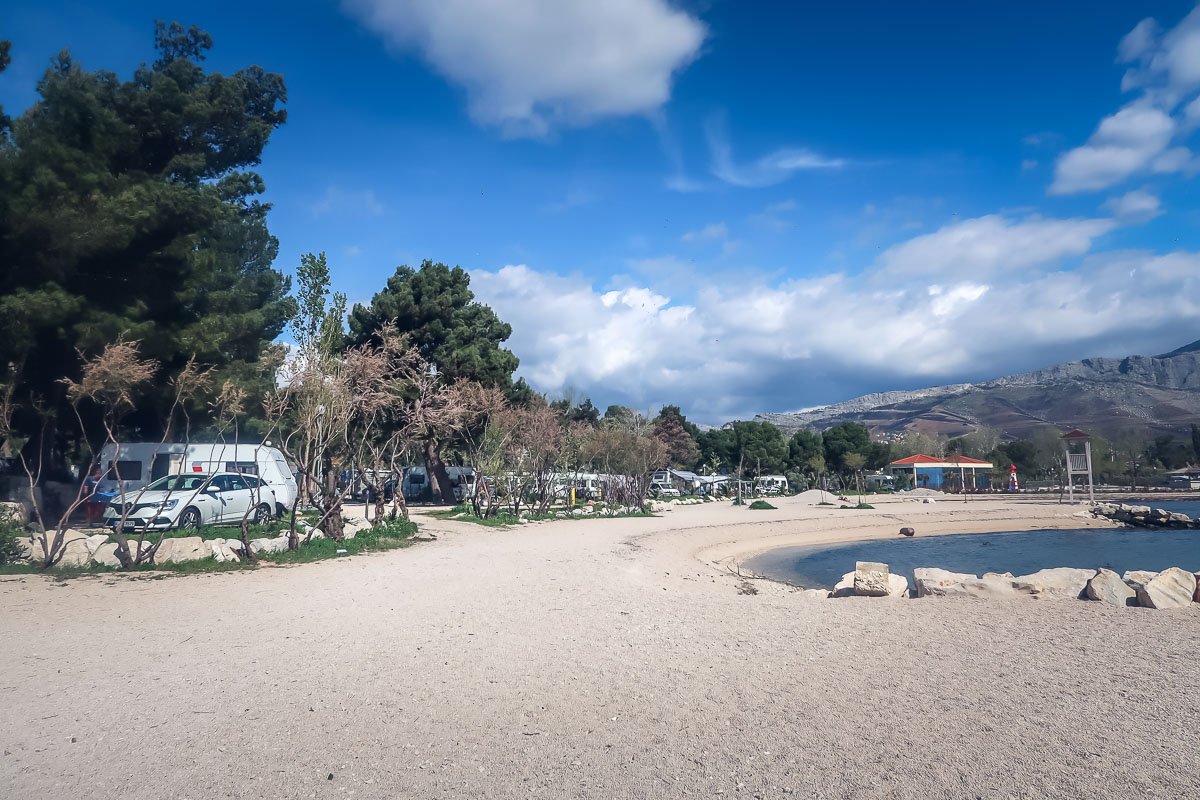 Where is Split?
The Dalmatian coast runs from the the island of Rab in the north to the bay of Kotor in the south. This strip of land and its numerous islands are hugely popular tourist destinations for those wanting to island hop, enjoy water sports and explore historical sites. Dalmatia has crystal clear aqua coloured water and warm sunny weather, its clear why so many put the Dalmatian coast on their itinerary.
The largest city in this region is Split, which has an incredible old city and Emperors Palace (Diocletian's Palace) that is the bubbling heart of this city with its shops, cafes, museums and churches. Explore the historic and intriguing area in and around Split. If you are a game of thrones fan and there are many people who fit this category, there are a number of filming sites in Split for this popular production.
If you are driving yourself in a car, caravan, RV or motorhome, Split's Camping Stobrec is the place to stay when exploring Split and the surrounding region.
We stayed for an entire month it was so good!
Where is Stobrec?
The camping ground is located an easy 6 kilometers in the outskirts of Split, right on the beach front. The view from the beach is inspiring to say the least. This was my view each morning overlooking glistening bay and mountains that rise right up out of the water. Each morning the girls and I would open our blinds in our Motorhome to see if the ocean was dancing in the sunlight. Each morning it glistened and sparkled to their giggling delight. This is a memory I'll keep forever. As you can see, unlike many Croatian beaches, Camping Stobrec has an entire shorefront of course sand beaches. This is a rarity anywhere in Croatia and one simple reason why Camping Stobrec is popular for holiday makers.
How far is it from Split to Stobrec?
Stobrec is 8.4 km from the centre of Split. You can catch the Split Stobrec bus (number 25) right into the heart of the city from the front of the camp ground or one of 5 different buses to within 400 meters of the site. Tickets are cheap (About 2 Euro or 14 Kuna for an adult) so no need to take your vehicle and fight for a park. It's about a 20 minute ride. The bus drops you right in front of the Split Markets "Pazar" in the city adjacent to Diocletians Palace. The old city is accessibly by foot only so we recommend leaving your vehicle on site at Camping Stobrec Split and catching the bus to explore this amazing city. Parking for a motorhome in town is not for the faint of heart although you can find parks in the city for cars at a cost.
FTM Insiders Tip: Although parking may seem relaxed in Croatia with many parking their cars on the sidewalk. There is a unique trend in split, where the local authorities will clear an entire street of cars parked illegally using a hoist which literally lifts your car onto a truck within minutes of arriving. (Take the Split Stobrec bus – Its cheap and easy)
Can I get a discount?
Camping Split accept the ASCI card, so don't rule out visiting Split in shoulder season. Low crowds, beautiful views, easy accessibility to all the attractions that Dalmatia has to offer, all right at your finger tips. You can get a discount if you stay for a longer period.
Facilities at Camping Stobrec Split
There is a great on site cafe 'Horus' with the same outstanding view from the waterfront. This spot is very popular with locals and tourists alike because of the views and great menu. They offer a variety of foods to suit all appetites and all the staff speak English and some German.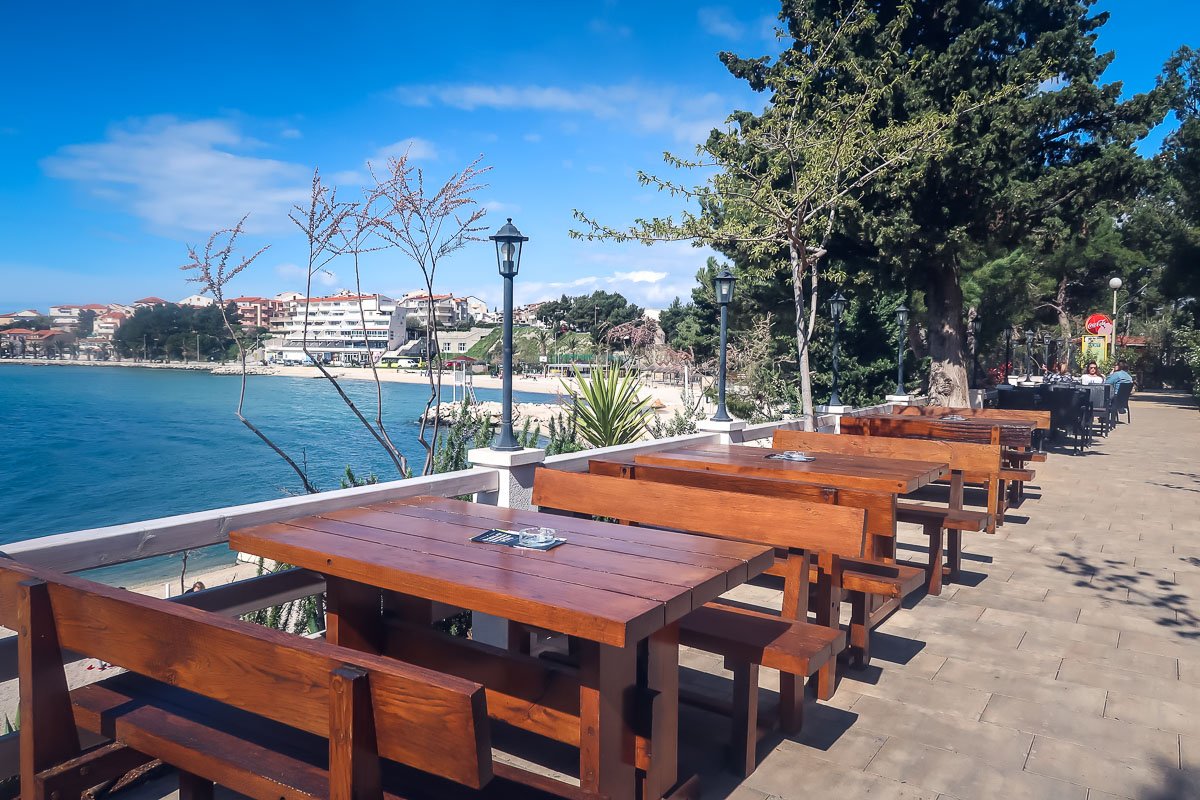 Camping Stobrec has is very well set up here are a few of the additional facilities you'll find to make your stay enjoyable:
Air-conditioned cabins, tent sites, large caravan and Motorhome sites – With lots of trees, so plenty of shade to go around.
Swimming Pool and soon to be opened day spa facilities with the same amazing view of the ocean and mountains.
A beautiful clean Beach – This beach is cleaned regularly and maintained
Full booking services for tours and attractions, including hire car, ferry booking and activities (Rafting, Jet Ski, SUPing, Aqua aerobics)
Toilet blocks – three long hot showers a day
Playground and kids area including kids club
Booking service for snorkling/diving and island hopping
Wifi
There is a supermarket right in front of the Campsite, so no need to carry groceries too far. Gas bottles are available at the store in case you run out in your motorhome and you can also fill up in Split. If you have any questions the staff are friendly, helpful and kind.
We loved our time at this great Camp site. It's one of the best campsites we have stayed. Why? Because of its staff, facilities, location to so many possible day trips and sandy beach.
Click here for bookings and information on Camping Stobrec Split
Some more pictures of the campsite: