Cologne (Koln), is a beautiful city on the river Rhine with loads to do and lots to discover. You have to spend at least a weekend in Cologne to really discover the essence of this beautiful city.
Cologne is located in the German federal state of North Rhine-Westphalia and is the 4th largest city in Germany. Mostly post World War II rebuild, due to 90 percent of it being damaged by bombing.
Now, it boasts some impressive architecture, a great culture and an intriguing history.
Crane Towers – A Marvel of Modern Architecture
One of the newest attractions in Cologne are the three Crane Towers (Kranhauser) on the Rheinauhafen waterfront. These three buildings are an architectural representation of the cranes that used to load cargo onto ships on the Rhein. Each one stands at a height of 60m offering the onlooker an interesting visual on the horizon.
Colognes History for the Budget Savvy Traveller
How do you get find out about the best of Colognes tourist attractions and history when you are on a tight time frame? Free walking Tours are a gold mine for any traveller. Available in multiple languages and they normally go for about two hours. The guide will give you all the insights you need to get the most out of your visit to Cologne.
Read our Ultimate Guide to Free Walking Tours.
Discover Munich with Kids

Discovering Colognes Roman Roots
Dotted all over Cologne are relics from the its' Roman past. Half a wall here (in a car park), a well over there, its quite comical.
Keep your eyes open, because the ruins pop up in the strangest places and where you least expect to see them.
Formerly know as CCAA (Colonia Claudia Ara Agrippinensis), Cologne became the capital of lower Germany whilst it was occupied by the Romans. Therefore, there is a wealth of artefacts including glass, mosaics and jewellery from that era.
You can find some great examples at the Roman Germanic Museum. The museum is built over an actual Roman Villa and is home to the most beautiful Roman floor Mosaic (nearly completely intact).

Cologne Cathedral – The heart of Colognes Old Town
Kolns most recognised building is definitely the Cologne Cathedral, otherwise known as Kolner Dom. It's a Catholic Cathedral with Gothic Architecture.
How tall is Cologne Cathedral you ask? The tower stands at a height of 157m towering above the roof tops of the city.
Cologne Cathedral's building was started in the year 1248 and was not finished until 632 years later. Therefore it has some interesting quirks in its architecture.

The quirky architecture does not take away from the appearance, this Gothic Cathedral is truely majestic. Visited by millions every year because it houses the shrine of the three Maji – better known to you an me as the three wise men (from the Bible) and is a UNESCO world heritage site.
Not for the faint of heart is the climb to the top of the south tower. It costs a budget friendly €4 for an individual or €8 for a family ticket. On a clear day you will see an outstanding view right across the city of Cologne.
Those not wanting to brave the 533 steps up, can visit the Cathedral Treasury instead which is housed below the Cathedral.
Visit Cologne in the Winter – Cologne Christmas Markets
If you look in the Cologne travel guide book, it will tell you to visit Koln in the winter, well, specifically in December, so you can go to the Cologne Christmas markets and be dazzled by the thousands of sparkle lights. There are five main Christmas Markets in Cologne. But the most beautiful are located right under the Cologne Cathedral (Dom) and in the Old town.
Cologne Cathedral Christmas Markets
Set up in the square in front of the Cathedral, these markets are a spectacle of lights, delicious smells and activity. Buy a mug of Gluewein to keep you warm and peruse the stalls with glass baubles, gingerbread, jewellery, candles, wooden decorations and so much more.
For a real German experience, don't forget to try a yummy Reibekuchen (Hot Potato Pancake) or a Bratwurst hotdog!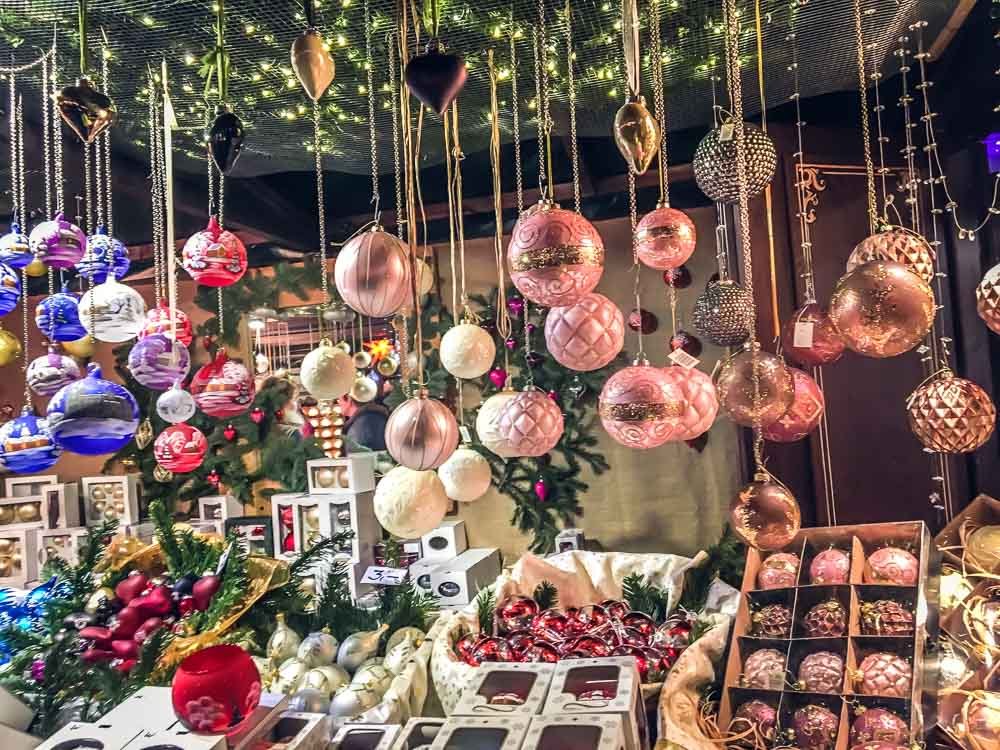 Cologne Old Town Christmas Markets
Take the kids for a zoom around the ice skating rink at Heinzels Wintermarchen, Colognes old town Christmas Markets. There is no need to have your own skates as you can hire them on site.
The markets in the old town are the best for families as you can watch a glass blower making jewellery or a blacksmith hammering out horse shoe decorations. There is a huge variety of beautifully decorated stalls with yummy treats, arts and crafts to peruse all under the cover of more sparkle lights.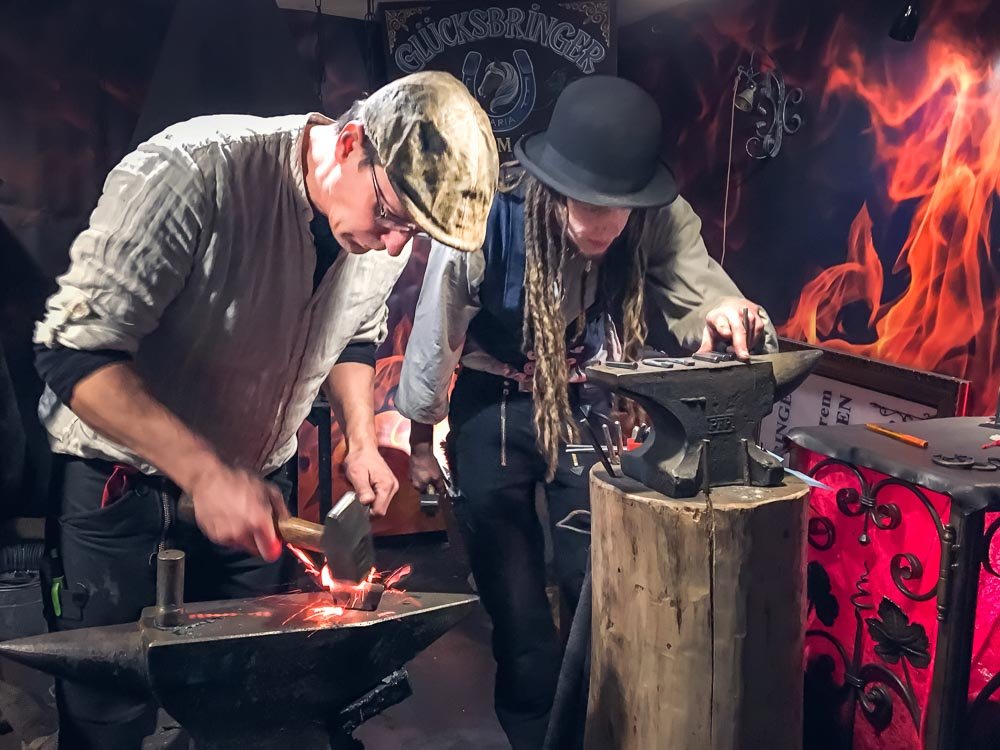 Colognes Christmas markets start on the last Monday before Advent. So the 2019 Cologne Christmas Markets will be 26th November to the 23rd December.
A Romantic Weekend in Cologne – For Love or Fortune
Located in the Eisenmarkt are Tunnes and Schal. These two cast puppet characters from Colognes theatre past represent love and fortune. Rub Tunnes 'nose', for love to prosper in your life or 'shake' Schals hand to have fortune.
As you can see by the golden glow on the statue, many have rubbed Tunnes nose!
Should you decide fortune is your future and your loved one is looking on (unimpressed), I suggest you take a trip past Hohenzollen bridge. Attach a padlock and lock your love together forever along with thousands of others. It's a win win!
Cologne, Germany – A town with a History
For a little bit of history while walking around the city look down to the footpath you are walking on. You might notice golden plaques on the pavement. Each of these plaques represents a Jew that was taken during WW2 from the very building your standing in front of.
Although you might be temped to look up at the majestic sites of this city, look down! It helps you remember the past, so it is never repeated.
I recommend you spend a weekend in Cologne, Germany. You will not be disappointed. There are so many things to see and do for singles, couples and families.
Take a look inside the Cologne Cathedral, walk to the top or visit the treasury. Wander along the banks of the river Rhein and take in the sites of the Crane Towers and Hohenzollen Bridge. Don't forget to leave a love lock!.
Wander through the old town and see the Roman ruins at the Roman-Germanic Museum, or find out about Colognes history on a free walking tour. Summer or winter this city has something for everybody. So here are a few ideas of things to do around Cologne, now I suggest you find the map and go!
Found this post helpful? I'd love you to leave comment below and let me know.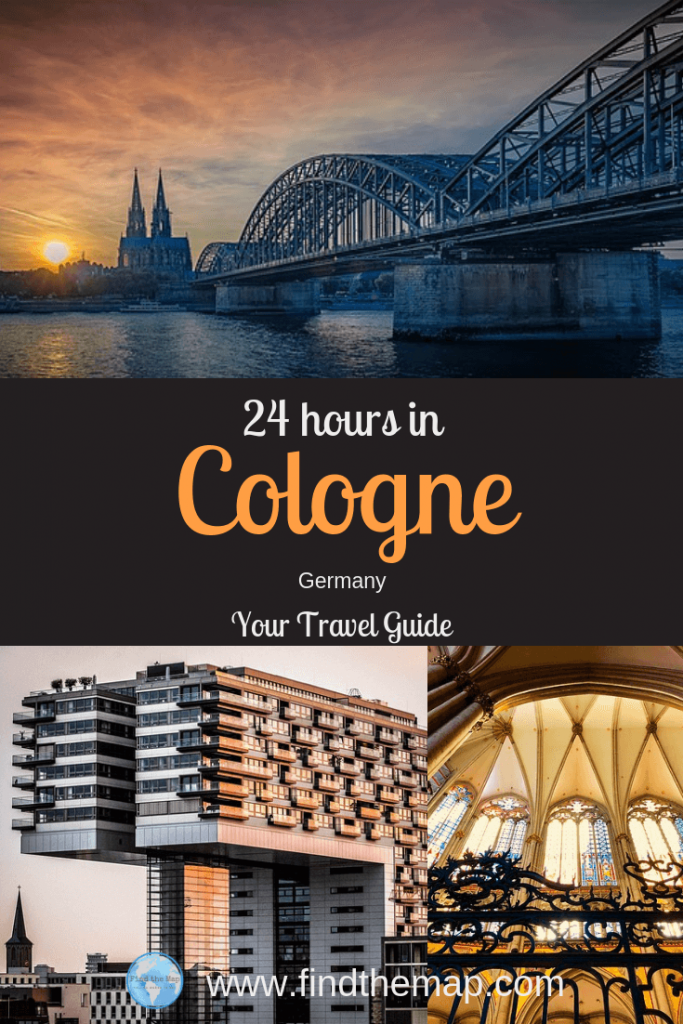 You May Also Like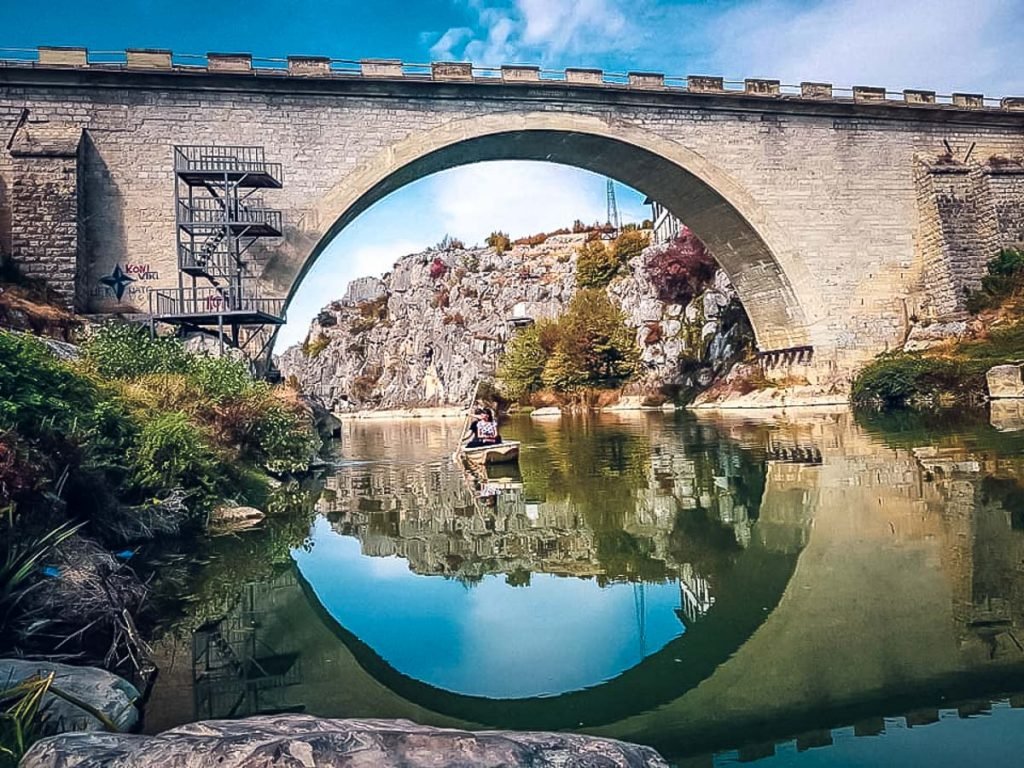 Guest Post by Lavdi – Kosovo Girl TravelsLavdi is the founder of the travel site Kosovo Girl Travels. She writes about her experiences travelling the world and is currently based in Yambio, South Sudan serving as an International UN Volunteer with UNMISS. Follow her journey on social media; Facebook, Instagram & Twitter It's not easy…