Somerset Rural Life Museum (also known as the Rural Life Museum Glastonbury) is located in Somerset, which is a county in the South West of England.
Its inhabitants go way back to Palaeolithic times, then over the years it become home to the Celts, Romans and then Anglo Saxons.
Stone Henge is definitely the regions most visited land mark, but it also lays claim to Glastonbury Tor (believed to be King Arthurs resting place) & Bath, which is Englands only UNESCO listed City. However, should you be looking for a quieter spot to explore check out the Rural Life Museum in Glastonbury.
Where is the Rural Life Museum?
The Somerset Rural Life Museum is located on the South Eastern side of Glastonbury. Glastonbury itself however is better known for its open air music festival that is 'claimed' to be the largest in the world.
The Rural Life Museum is on the site of Abbey Farm, which is on Chilkwell Street, not far from Glastonbury Tor. In fact you get a great view of the Tor from the Abbey's Barn.
What to see at the Glastonbury Rural Life Museum
The Museum takes you on a stroll through Victorian country life. Experience how local industries ran, and see the tools, trades and crafts that were part of everyday life during the 1800s.
Re-live how farmers worked their fields and glean insight into the crops that were grown and harvested in rural Somerset. This museum gives you a glimpse into country life 200 years ago.
History of Abbey Farm
Abbey Farm has undergone a full renovation to bring it back to its former glory. The quaint Farmhouse was originally built in 1894 using the traditional limestone and was home to the Mapstone family.
Age means history and this Farm housed evacuees and sheltered locals during bombing raids in the war. Ask the staff about the unique wooden shutters that show the affluence of the family during this period.
Originally a dairy farm the buildings and outhouses are a simple, good representation of historic rural life in Somerset.
The Most noteworthy building on site is the Abbey Barn, which dates back to the 14th century. It is the oldest building on site and is quite awe inspiring. Apparently it was one of five barns belonging to Glastonbury Abbey that was built by the Monks and was formally used to store tithes of produce collected from Abbey Farm.
It is a stunning building one of the most breathtaking barns I have ever seen.
Kids Fun at the Rural Life Museum Glastonbury
Pick up a 'Rural Ranger' back pack/trail book at the front desk and the kids can find the clues as your exploring. Our kids thoroughly enjoyed looking for each clue.
See how Somerset supported the world war one effort with the recreation of garden allotments and see how allotments were used to supply the region with much needed produce.
Rural Life Galleries
Truely a wealth of knowledge is on display in the Galleries. Equipment and descriptions of industries including; Cobblers, Leatherworkers, Cheesemakers, Farmers, Weavers, Carpenters, Doctors…. the list goes on and on. You won't leave without discovering something you didn't know!
These galleries are interesting and informative showing how things were done before industrialisation changed the way we lived.
We all enjoyed seeing the recreated kitchen & the kids got a laugh out of the outdoor Toilet.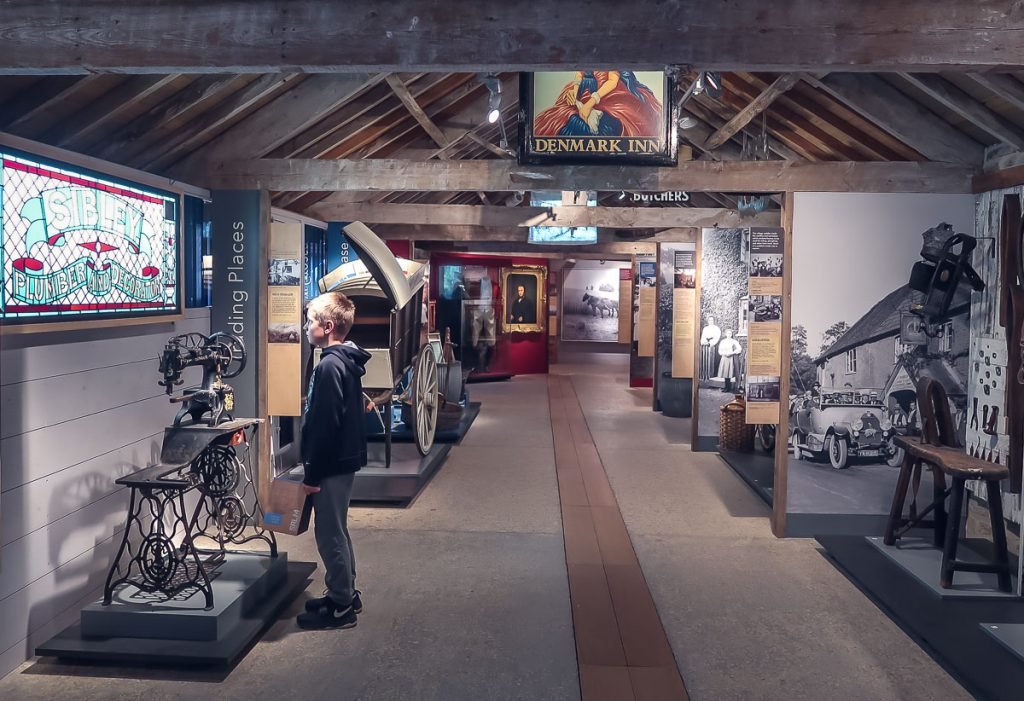 Summer or Winter Exploring
In summer or spring you can wander through the orchard and pick an apple or two. View the onsite art exhibit by Harriet Mead with a life sized horse made out of reclaimed metal.
Its extraordinarily impressive and lifelike. Or, perhaps you would prefer to pop over and see the sheep and garden allotments.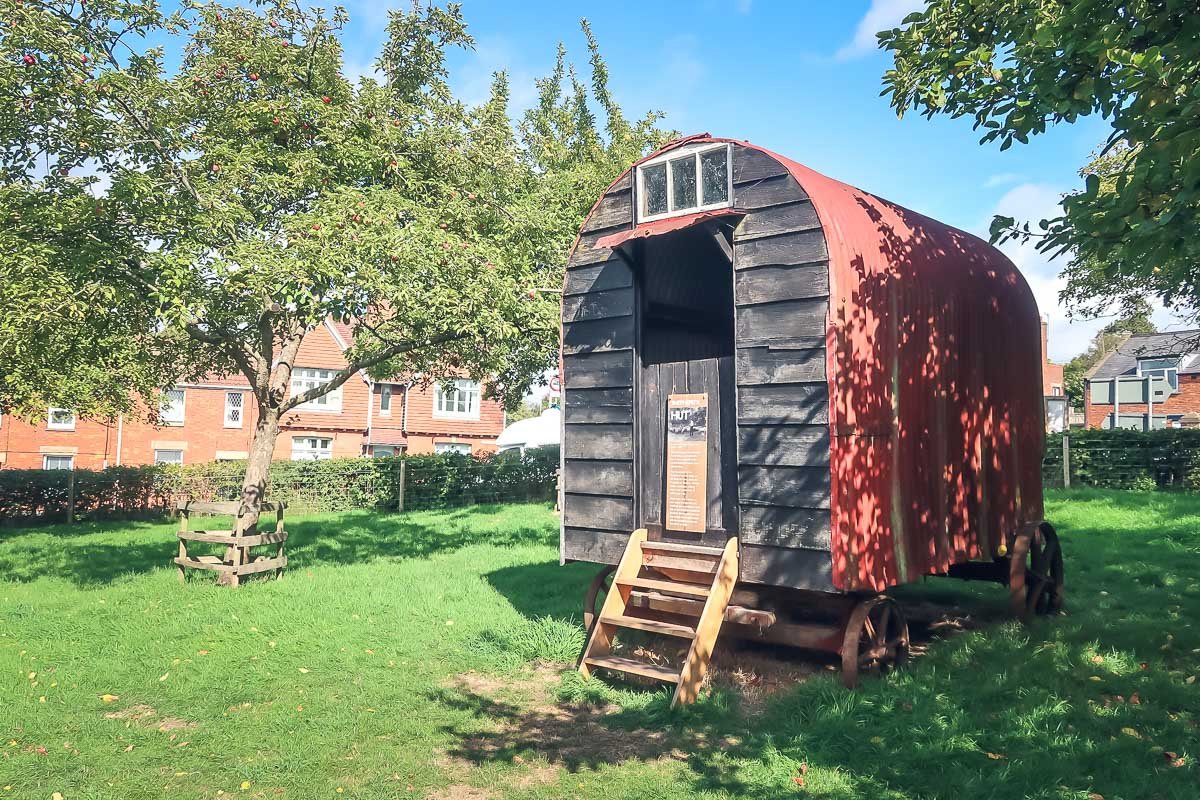 Because the Museum has great covered heated spaces you won't need to think twice about visiting in winter. With close onsite parking you don't have to go far in the wind or rain to get into main buildings.
Try out the onsite Cafe, which is available all year round for a bite to eat and a cup of tea. Sit down and relax outdoors in the sun or stay dry and warm inside.
Each year the Rural Life Museum puts together a calendar of events with something for everyone from Toddler Explorers and Family Fun days to Adult Drawing, Craft Sessions and Special Festive events.
The Museum has an onsite learning area and temporary exhibit space. Which means content changes regularly, so there is a high chance of seeing something new if you have been before.
Value for Money at the Rural Life Museum Glastonbury
I know how hard it is to find good value for money in a family day out. At only £17.50 for our family of five, the Rural Life Museum Glastonbury is a good honest bargain.
Here is the Current Price List:
| | |
| --- | --- |
| 0-5 | FREE |
| Adult | £6.00 |
| Concession | £4.95 |
| Child | £2.75 |
Don't forget to take a look through the museum shop with its cute ornaments and toys of a bygone era.
Honestly, if all you have is half a day, the Rural Life Museum in Somerset is great value for money.
I was not incentivised to write this review in any way by South West Heritage Trust or Somerset Rural Life Museum. This is my honest opinion and review of this site in Glastonbury.
Looking for other things to do in the Somerset Region? Take a Day Trip to Bath!
Or Perhaps you heading to Cornwall? Check out Trevone Beach.

Enjoyed this Article? Pin to read again later.
You May Also Like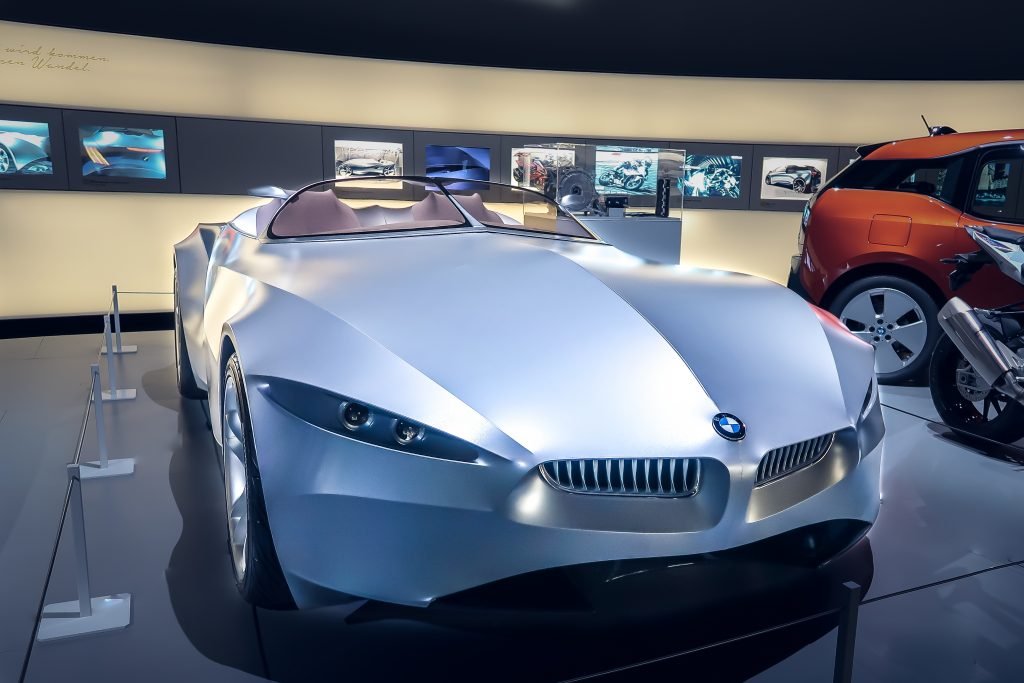 Munich is a city overflowing with culture, beer gardens and Museums, but is it just for the adults or are there a few uncovered gems for the kids in Munich too? Here are 7 of the best places to visit on a weekend in Munich. Where is Munich in Germany? Munich is the…