Hiking Snowdon with Kids is a great experience.
Discover the legend of the giant Rhitta Gawr who was slain by King Arthur.
Welsh folklore says that the Giants tomb is somewhere on Snowdon, why not see if you can find it while hiking Mount Snowdon with your kids?
We love to adventure with our kids and are true believers in the notion that young kids only know what you tell them.
So when it came time for us to climb Mount Snowdon as a family we told our youngest who is 5 that she could do it.
And thats exactly what she did!
Did you know that Sir Edmund Hillary trained for his epic Mount Everest summit on Mount Snowdon?
Where is Snowdon?
Snowdon (Yr Wyddfa in Welsh) is Wales highest mountain and is located in Snowdonia National Park. Snowdonia (Eryri) covers an area of 2,130 km2 which is 823 square miles.
What is Snowdon's Height?
Snowdon is 1085m (3,560 ft) above sea level. Its the highest point in Wales.
Can kids Climb Snowdon?
Yes, kids can definitely hike to the summit of Snowdon. You know your own family the best and if you have active kids that love to explore, they will relish the task of making it to the top first.
Our littlest who is five made it all the way up and down on the Pyg Track, which is relatively steep in places and has a lot of scrambling over large rocks.
We stopped for regular snack and drink breaks to give her little legs a rest and helped her up some of the bigger rocks.
If your unsure how your kids will go, take the Llanberis Track as it is the easiest ascent (but it is also the longest).
However, if you have kids that don't do a lot of walking, then it would be best to start with a smaller climb like Pen Y Fan in the Brecon Beacons National Park (South Wales) and work up to a larger climb like Mount Snowdon.
Read more about Pen Y Fan and Other great hikes in Wales with Kids!
Distance to the Summit of Snowdon?
There are six main Tracks up Mount Snowdon. The distance to the summit depends on the track you take.
Llanberis Track
Distance: 14.48km (9 Miles to summit and back)
Time: Around 6 hours
Total Ascent: 975m (3,199 feet)
Parking: Multiple parking options in Llanberis (most pay and display)
Miners Track
Distance: 12.87km (8 Miles to summit and back)
Time: Around 6 hours
Total Ascent: 723 m (2,372 feet)
Parking: Pen Y Pass Car Park (pay and display)
Pyg Track
Distance: 11.23km (7 Miles to summit and back)
Time: Around 6 hours
Total Ascent: 723m (2,372 feet)
Parking: Pen Y Pass Car Park (pay and display)
Watkin Track
Distance: 12.87km (8 miles summit and back)
Time: Around 6 hours
Total Ascent: 1,015m (3,330 feet)
Parking: pont Bethania Bridge Car Park (pay and display)
Rhyd Ddu Track
Distance: 13.67km (8.5 miles to summit and back)
Time: Around 6 hours
Total Ascent: 895m (2936 feet)
Parking: Rhuyd Ddu Car Park (pay and display)
Snowdon Ranger Track
Distance: 12.87km (8 miles to summit and back)
Time: Around 6 hours
Total Ascent: 936m (3071 feet)
Parking: Llyn Cwellyn Car Park (pay and display)
Which is the best track for kids?
Llanberis track is the longest route to the top, however it also the flattest ascent. Which means its easier on little legs.
From Llanberis you also have the option of the train up and walking down if that works better. You can read about Train options further down this article.
Thousands do the Llanberis path, but I recommend that you do Pyg Track up and Miners Track down like we did. Although this track can be tough on little legs, it offers great views of the lakes on the way up and plenty of rocks to scramble over. Its steep and there are sheer drops, but unlike Llanberis Track you get stunning views out over the lakes.
The Miners Track allows you to go right next to the Lake and so you can skim a few rocks or take a paddle.
The Round Trip took our family seven hours from car park to summit and return.
Tips for Climbing Snowdon
Choose a clear day to climb Snowdon
Not everybody has the opportunity to choose to wait for the perfect weather to climb this mountain. We are in a unique situation in that we travel full time and so waiting for three days until the weather cleared and the sun was shining was something we were able to do.
If you don't have this luxury because you are on holidays from work or school, you may have to hike on a less than perfect day. If this is your situation, I recommend that you do the following:
Check with the Met Office to see what the weather will be on the day at the summit, these reports are usually printed and available in the local tourist office or at the Ranger Stations .
Also check the Ground Conditions Report put out by Snowdonia National Park for local information on the actual ground conditions at Snowdon. These resources will help you assess what climbing/hiking gear you will need for your ascent.
What to wear Hiking Mount Snowdon
Don't be under the illusion that just because the sun might be out that it won't be cold. As with all hikes you should layer up and take a nice Warm/Waterproof Jacket.
Hat, Gloves, Sunscreen and Hiking Boots are a must on this mountain also. The weather can come in fast and you don't want to be half way up and find that you were not prepared.
Especially when hiking with kids.
What to Pack – Climbing Snowdon
As we all know, kids get hungry fast. They seem to burn through their energy resources very quickly and so I recommend that you pack snacks and of course you wouldn't hike anywhere without water.
We always take our Water to Go Bottles as they allow us to refill our bottles anywhere without worrying about the safety of the water. They have a unique filter system. Read more…

Stopping regularly for drink and snack breaks gives little legs a chance to recover. Its the perfect opportunity to take a few photos and appreciate the view. Which is incredible!
You should note that you cannot refill your drink bottles at the cafe at the summit of Mount Snowdon, but bottled water is available for purchase.
You should carry at least one day pack that has a first aid kit, mobile phone, food/drink and wet/cold weather gear.
Catching the Train up Mount Snowdon
Yes, there is a train that goes to the top of Snowdon. Snowdon Mountain Railway is described as one of the most picturesque train trips in the world.
Should you have a member of your party that cannot climb; Elderly, Injured or Infant. This is a must do.
You can book tickets online or at the ticket office in Llanberis. However, here is a tip, if you think you will want to hike up and catch the train down you must book in advance. In other words, don't get all the way up and decide that you are too tired to walk back down, because there is no guarantee of seating being available for you once you are already at the top.
This train books up fast, especially the early bird discount service in the morning, so if you are coming to the region, book in advance or you may miss out.
If you can afford the full fare and weather is clear, the last train of the day gets to see a beautiful sunset, which adds to the beauty of this ride.
Snowdon Summit
You'll be happy to know that there is a cafe and shop at the summit of Mount Snowdon where you can sit, relax and admire the view in a warm and cosy space. Take your time to have a rest before you head back down.
Heading down can be more treacherous than going up. Its hard on the knees and ankles, so take your time especially if its wet!
Your kids will remember the day they made it to the top. Its a great hike and you will have the memories that last a lifetime.
What Track did you choose to climb? Please leave a comment below and let me know.
Found this article Helpful? Pin to read again later.

You May Also Like: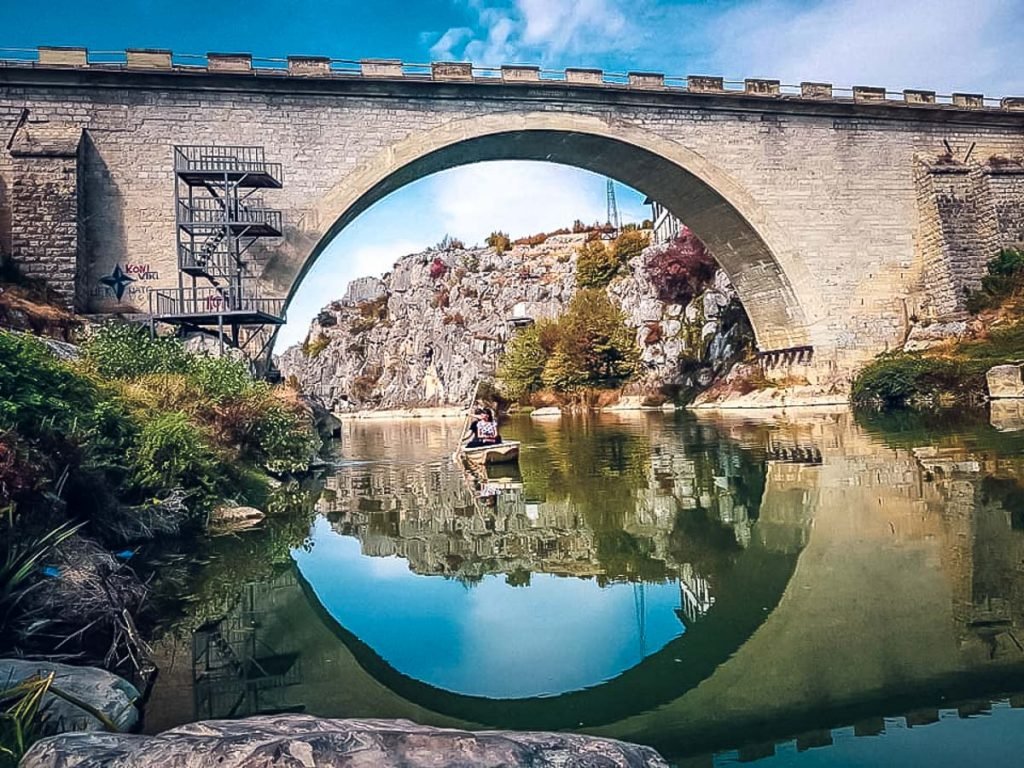 Guest Post by Lavdi – Kosovo Girl TravelsLavdi is the founder of the travel site Kosovo Girl Travels. She writes about her experiences travelling the world and is currently based in Yambio, South Sudan serving as an International UN Volunteer with UNMISS. Follow her journey on social media; Facebook, Instagram & Twitter It's not easy…