Why is Split the best place to base yourself in Croatia?
Because there are so many attractions close by that you can do over 10 easy day trips from Split and not see the same thing twice!. At Find the Map we want to inspire others to travel, so here is our Ultimate guide to day trips from Split.
Please note that some of these day trips could be done over two or three days if you have time. We will guide you through what towns/areas are worth spending extra time if you have it.
Looking for the Best Campsite in Split? Check out Camping Stobrec Split.
Explore Split City with these great ideas!

Klis Fortress
Klis Fortress: Game of Thrones Filming Location
Ok, Game of Thrones fans, Klis fortress is only 13 kms from the door of Diocletian's Palace in Split. Kliss Fortress entry cost is only 40 kuna (or 8€) so take a wander through this Medieval Fortress that sits on an outcrop above the village of Klis.
This fortress was used for series 4 of the Game of thrones filming, making it a must do day trip from Split. The fortress is imposing and has the absolute best views of the mountains, city and coast of Split.
Its a perfect location to take some incredible photos.
There are 3 bus lines that run to Klis. Bus 22 leaves from the National Theater and bus 35, 36 leave from Sukoisanska.
Salona ruins
Diocletian's palace is the central destination of most tourists visit to Split. Where was Diocletian born? Salona! This is not just a small collection of ruins, it is the remains of one of the largest cities of its time and the birth place of one of the most revered emperors in Roman history.
Where is Salona
Salona is 7 kilometers from the city and is just under the mountain ridge that holds the Klis fortress. Klis fortress and Salona make a great combined day trip from Split.
Getting to Salona from Split

By Car: Hire a car for your trip to split it is worth it in this city Solin is only 7kms from the centre
By Bus: local buses no.1 (to Salona), nos. 10, 16, 37 (to Trogir) from Split right next to the Green markets and return bus from the Salona Palace hotel.
By Taxi: Given its proximity to Split Taxi isn't out of the question to get to Solin and Klis – Just make sure you negotiate a cheap price or ensure the meter is on! Bus will only cost you 14 Kuna each way!
A day trip from Split to Omiš – Adventure sports central
Omiš is where the mountains meet the sea! Excellent for a relaxing day but even better for adventure tourism. Omiš is home to Zip Lines, White Water Rafting, Hiking Trails, Canyoning and Sailng experiences centred around the canyon of the river Cetina. It is also a perfect spot to access the island of Brac with its famous beach Zlatni Rat which moves with the tides.
You could easily spend 2 or 3 days in Omiš, but if your visiting for just one day, make sure you climb up to Starigrad Fortrica (Fortress Starigrad) for incredibles views out over the bay. The Fortress sits on an imposing ridge 280 meters above the town and is a steep, but pleasant hike. (Our 4 year old made it all the way up).
Adventure Sports in Omis – Croatia
Stari Grad Fortress is Free, exciting and rewarding.
White Water Rafting and Canyoning On the Cetina River
Omiš Zip Line: Over 2 kilometres of Zip line for you to enjoy
Boat trips for Fishing and to the Islands:
Rock climbing and Via Ferrata: You must do this with a professional company we recommend booking through Adrenaline-Hunter.
Kayaking and Snorkeling tour: This is a great way to spend 2 – 3 hours – We recommend booking a local boat and skipper to take you to the best spots.
Omiš is not only beautiful but full of activities and things to do. You could easily spend time doing all the other day trips from Split and then move onto Omis for a couple of days of adventure.
It can get busy so booking in advance in high season is a good option. A reliable and secure site for adventure booking is Adrenaline-Hunter Ensure you don't miss out by booking in advance.
How to get from Split to Omis.
Omiš is 26 kilometers from Split and is easily accessible on Bus 60. (You can have a few drinks and bus it back to Split).
Split to Trogir day trip
Trogir is a walled old city on its own little island wedged between the large island of Ciovo and the mainland. It is connected by two main bridges and has classic old town charm. Little streets, plenty of places to eat and a promenade lined with restaurants, bars and cafes. Trogir is a good opposite to Omiš. Long lunches that merge into dinner. You can also catch the bus to Trogir which makes it easy to let your hair down.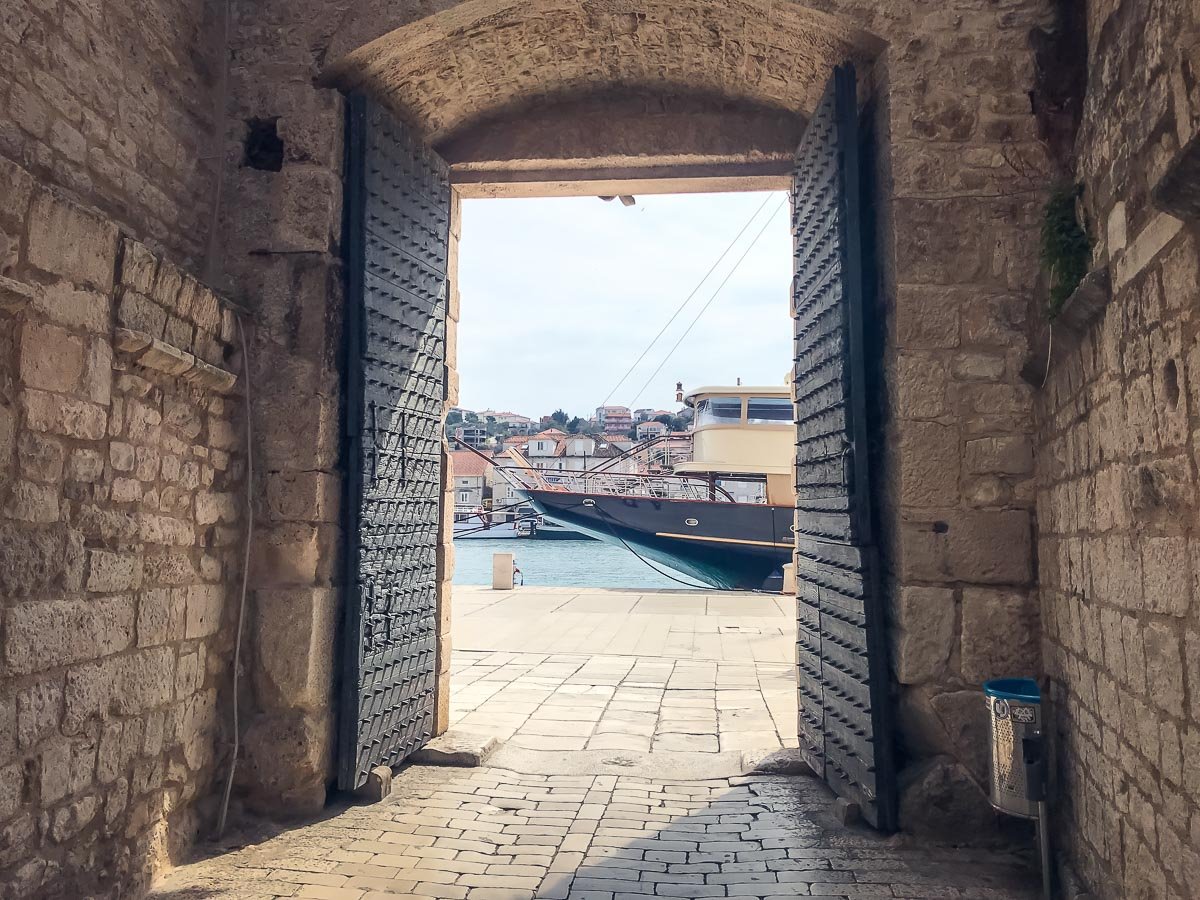 How to get to Trogir from Split
Trogir is 25 kms from split and can be easily reached by Bus 37 from Split. It is an easy self drive also.
Hvar Island a day trip from Split?
Hvar is a very popular island which sits behind the islands of Solta and Brac. However, locals suggest that it is not a day trip destination. We questioned this and they outlined that 90% of people go to Solta and Brac for a day trip but Hvar was a destination that you go to for at least a week.
Getting to Hvar: It is easy to take a boat to Hvar from Split, Omis or a number of other ports down the coast. Hvar is 80kms from Hvar town to Sucuraj.
FTM Insiders tip: If you have a car, the ferry prices from Sucuraj are really cheap and the coast road drive is amazing!
A day trip from Split to Mostar
Mostar is in a big day trip from Split and it requires a border crossing into Bosnia (Don't forget your passport and check your insurances). If your plans didn't include Bosnia you can easily access one of the prettiest Bosnian towns (Mostar) on a day trip from Split. Mostar is a must do for anyone seeking beauty and culture in their travels. The city has plenty of history and was a hot spot in the Balkan wars of the 90's adding to its intrigue and interest levels.
Things to do in Mostar
Walk the old town bazaar and find a souvenir or two
Get your Photo in front of the famous Mostar bridge (Stari Most) – There are plenty of good places to do this and you don't have to climb the Mosque tower to get it (Although the view is great up there).
Dive off the Mostar Bridge: Yes it 25 meters high and the water is freezing. Contact the Mostar Bridge diving club they will teach you how for a fee and guide your jumps! Go On!!! If your not that keen on jumping yourself, you can pay to see a professional dive off. It is a sight to see and a bit of entertainment for the afternoon.
Have lunch at National Restaurant Cevabdzinica – Top rated and inexpensive.
Snipers Tower: This is closed off to the public but is accessible (If you know what I mean) technically it is trespassing if you enter and you need to take huge care as there are no safety barriers. Absolutely enter at your own risk.
Spanish Square is likely to be the next most photographed place in Mostar.
Park Zrinjevac: Opposite the snipers tower it is a centre of conversation and fun for families and kids. There are cafes around as well for a quiet coffee and reflection on the war reminders all around you
Getting to Mostar from Split
We recommend by car because the majority of tours will take you to Mostar, Medjugorge and maybe one other spot on the way. Mostar for us is something you should plan for a day. Travel early, Look around the city near the old bridge, have lunch, walk to the snipers tower and maybe an early dinner before travelling back to Split. If you don't have time or must visit Medjugorge, Blagaj or Kravice then use a tour. Mostar is 170kms from Split.
A day trip from Split to Markarska
A good friend and Balkans fan, Pamela recommended we go to Markarska. At Find the Map we look for people to tell us where to go all the time and rarely are we disappointed! As in Omiš the mountains tower over Markarska creating a visual amphitheatre with the most notable being Mt Biokovo. There are not many places I've been where Mountains come so close to the coast. Markarska is a place to relax and chill. The photo below doesn't do it justice.
Getting to Markarska from Split
Markarska is 65 kilometres from Split on the ocean road past Omis. Don't take the toll road as you'll miss the excellent coastal views. The local Split bus system does not service Markarska but you can book a bus transfer between the two towns for between 70 and 100 Kuna return.
A day trip from Split to KRKA National Park
KRKA national park is a jewel in the Croatian landscape and is often compared with the well recognised Plitvice national park. KRKA has 7 beautiful waterfalls that create the Travertine landscapes (Calcium Carbonate (Limestone)) the national park is known for. The water, Algaes and mosses all work together to help form new limestone in all sorts of patterns and shapes. The Moss and plant life are all a vivid green, the water has a beautiful deep aqua green.
KRKA is 85kms from Split and an easy drive. Thee are plenty of tour providers that service KRKA for a day trip from Split.
A day trip from Split to Plitvice Lakes National Park
Plitvice is 250kms from Split. We mention it here as it is the most recognised natural park in Croatia. It is doable in a day and many tour operators offer a trip there from Split. We suggest that you can see a similar natural phenomenon at KRKA which is an easy day trip from Split. You can also see a similar set of water falls (Kravice) if you go to Mostar in Bosnia Hertegovina. We have done Plitvice and it is spectacular. It is doable from Split but if you had to choose we would recommend KRKA for the day trip and Plitvice for a longer stay and some hiking.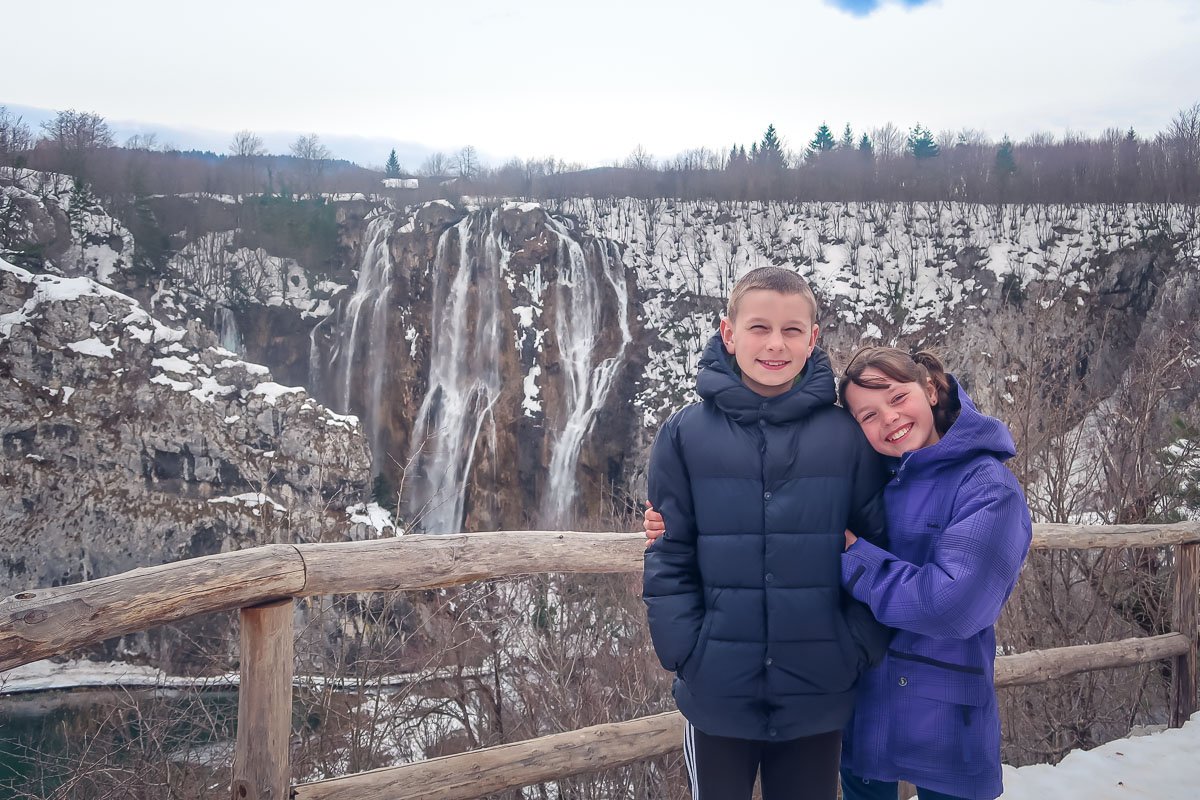 Plitvice National Park is 250kms from Split:
Route E65 from Split to Dubrovnik
Although this 250km long road is technically not a day trip it is spectacular and if you like to drive a nice smooth windy road with views this is the one for you. There are plenty of great "Ocean Road" experiences around the world and this would be my pick in Croatia. It takes in a number of beautiful towns including Omis and Markarska and includes many places to stop for the view and a baltik feed.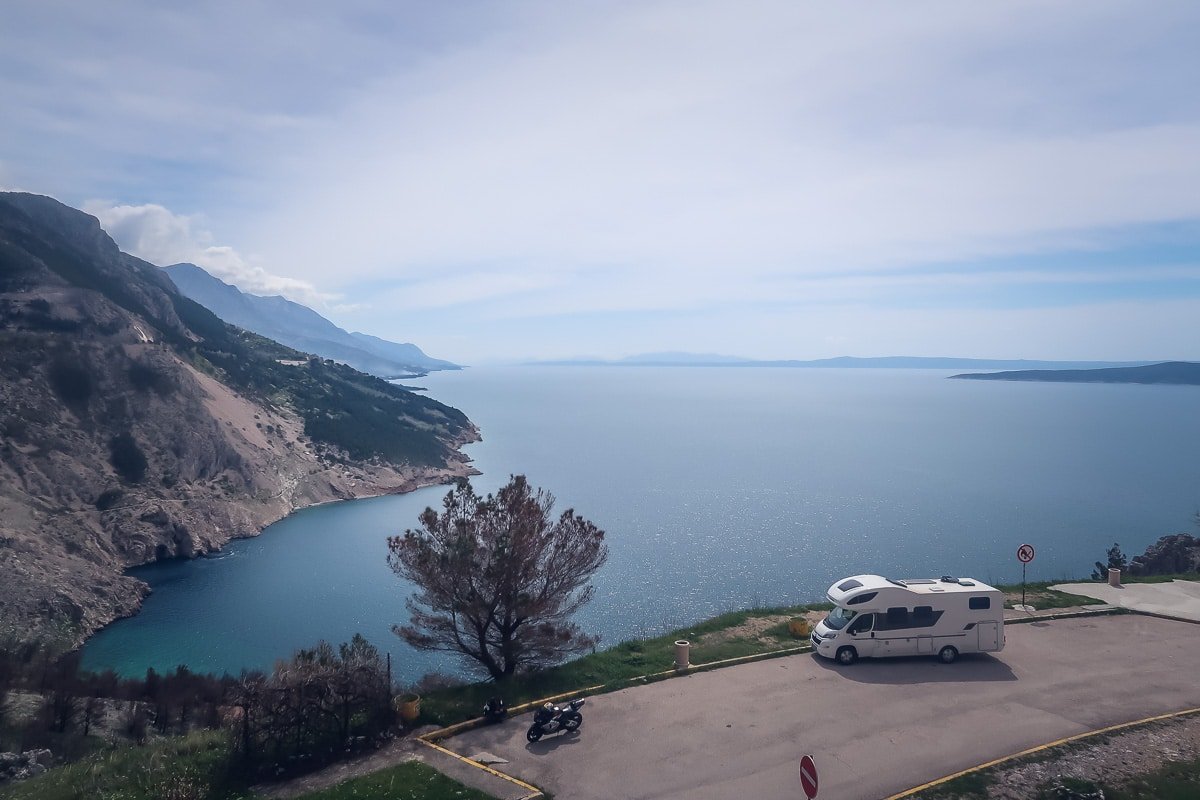 If you do travel the entire length you will cross the Nuem pass which is Bosnian territory. Bring your passport and check your insurance. This road is one of the reasons we recommend a driving holiday to Croatia. It is one of the classic road trips we found on our travels. The scenery goes on right down the coast and into Montenegro: We would recommend if you had 4 or 5 days to drive and take in Markarska, Dubrovnik and Kotor.
A day trip from Split to the Croatian Islands of Brac, Solta and Hvar
Brac and Solta lie just off the coast of Split and can be easily accessed from a number of places including Split, Omis and Markarska. Sandy beaches are few and far between, so a trip to the islands is the best opportunity to get sand between your toes.
Brac has arguably the most famous sandy beach in Croatia, Zlatni Rat. Regardless of where you pick the landscape, beaches and Bars are a great way to spend a day. You could easily stay on the islands for a couple of days.
Getting to the islands from Split
There are literally dozens of companies and private providers that can get you to the islands. Too many to list but you'll not struggle to find an option either on the Riva in Split of on the internet.
FTM Insiders tip: We recommend finding a local boat operator to take you on a tour of the Islands. You will find that it is cheaper, more personalised and they will take you to local places that tours don't go.
A gem on Brac is a small Cafe bar called Kala – Its a great spot.
A day trip from Split for an afternoon in Stobrec
Stobrec is just 7 km's from the centre of Split on bus 25. You'll find a beautiful town with a promenade lined with eating and drinking options. We recommend Stobrec in high season as they have the closest sandy beach to the centre of Split.
The campground "Camping Stobrec Split" has plenty of activities, including Jet Ski, Pool, Water Sports and a Rage Cage for hire and a huge dolomite (Nearly sandy) beach. Its a great place and close to the city.
Getting to Stobrec from Split
Bus 25 leaves consistently from Split all day. It is also a very easy drive from the city.
Where to stay in Split:
If you are hoteling we recommend staying in central split in the old town. We recommend using a booking system like AGODA to help you choose a great little apartment or room. There are so many you can choose to suit your taste.
If you would like something lower key but with access to pools, beaches and activities, you cant go past Camping Split – Stobrec
Enjoy your day trips from Split!
Found the article helpful? Pin to read again later!