Canoeing the Dordogne – What its like
Dordogne is one of Frances most beautiful quaint regions. The Dordogne River meanders its way quietly through gorges, past cliffs, farmland and orchards, it is this areas life source. The department (region) of Dordogne is abundant with little Villages that look like they have come straight out of a fairy tale.
You cannot come to the Dordogne River and not go on a Canoe trip. Its the quintessential holiday outing. You can while away hours drifting past pebbled river beaches with families picnicking on the banks, stunning countryside dotted with corn fields, sunflowers, walnut trees and bastides (fortified hilltop villages).
You will see majestic castles that sit high up on the cliffs of Montfort, Castlenaud and Beynac. Glimpse the villages of Domme, La Roque Gageac and Beynac that are on the "Most beautiful Villages in the Dordogne" list.
Our family loved the experience and rate it as one of their most memorable. Its good for the soul!
Everybody from the young to the old can find some fun on or about the river. If your concerned about the effort it takes don't be. The current will take you most of the way.
Looking for other things to do in the Dordogne Region?
Trip Lengths – Canoeing the Dordogne
You can choose to do a trip that lasts for anything from a couple of hours to 4 or 5 days.
If your a beginner and haven't put your hand to the oar before (or for a while) a couple of hours or half day journey is the perfect option. You can stop off in little towns like La Roque-Gageac for an ice cream or some lunch and then continue on your leisurely trip as the current gently pulls you along.
Look out for the Dordogne river barges that leave from La Roque Gageac and travel up and down the river.
You have the option of a Kayak or Canoe (2 or 3 seats) and are provided with all the necessary equipment to make your trip enjoyable. A waterproof barrel is supplied, that can safely hold all your possessions. You will get a life jacket, oar/s and a map of where to meet your driver for the lift back.
Some companies will drop you off at the river and others are already located on the river bank at an ideal spot for you to take to the water. All will offer to collect you at the end of your journey and you can negotiate the collection time if you want to spend extra time meandering through the town at your collection point or a town along your route.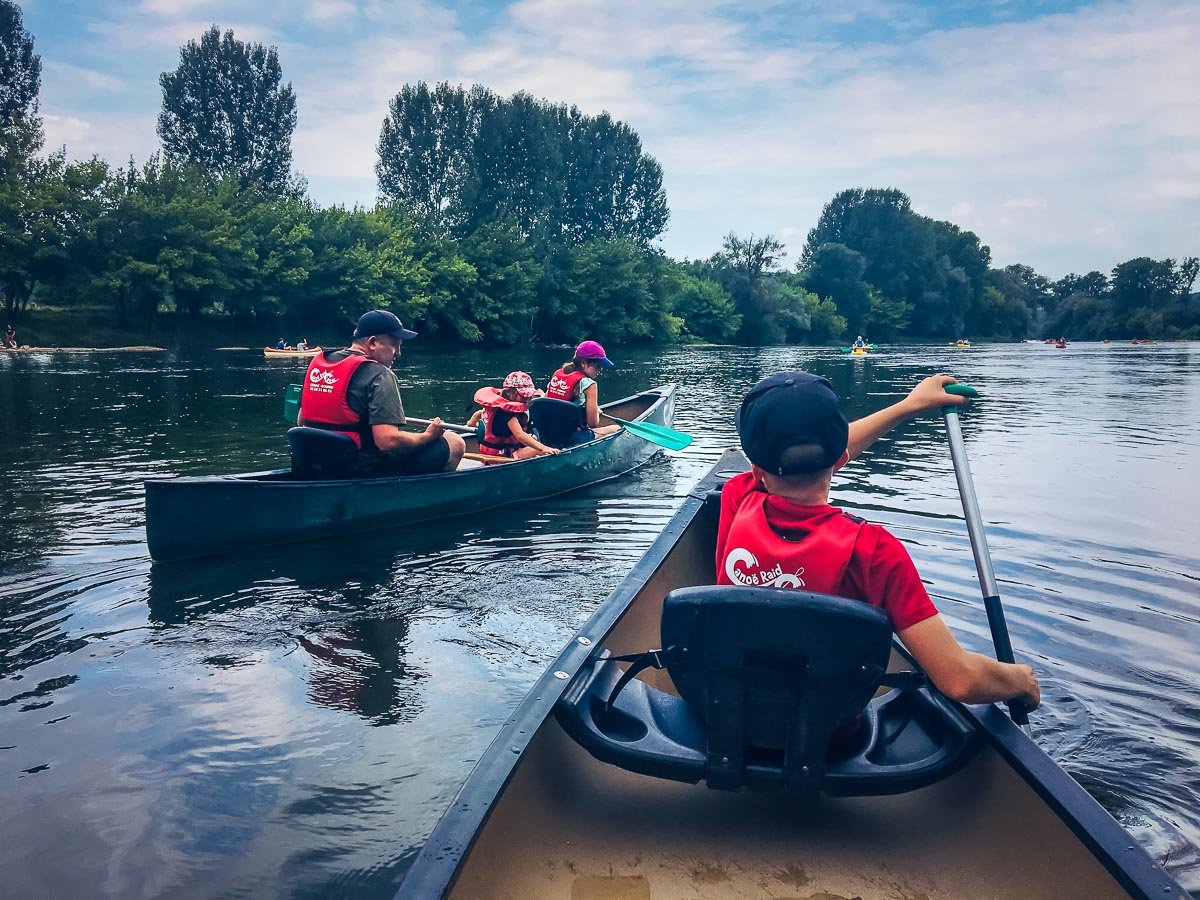 Canoeing with Kids
Children are well catered for with appropriate size life jackets and oars. No child is left out of the paddling fun and will enjoy navigating under the stone bridge arches that span the river Dordogne. Infants are not catered for.
How far will I Canoe?
If you are a more experienced on the water, then you should do a full day trip (28km) or a multi day trip where you camp on the river bank at night and canoe down river each day. Its a wonderful way to see the Dordogne River and its charm.
Different Canoe Companies offer different itineraries and many will accomodate your wishes. You can hire a canoe or kayak for 1 hour right through to a multi day trip. The most common hire is 1/2 day (15-17km), which gives you time to put the paddles down and drift, but also see many of the most sought after villages, bridges and castles.
What you need to bring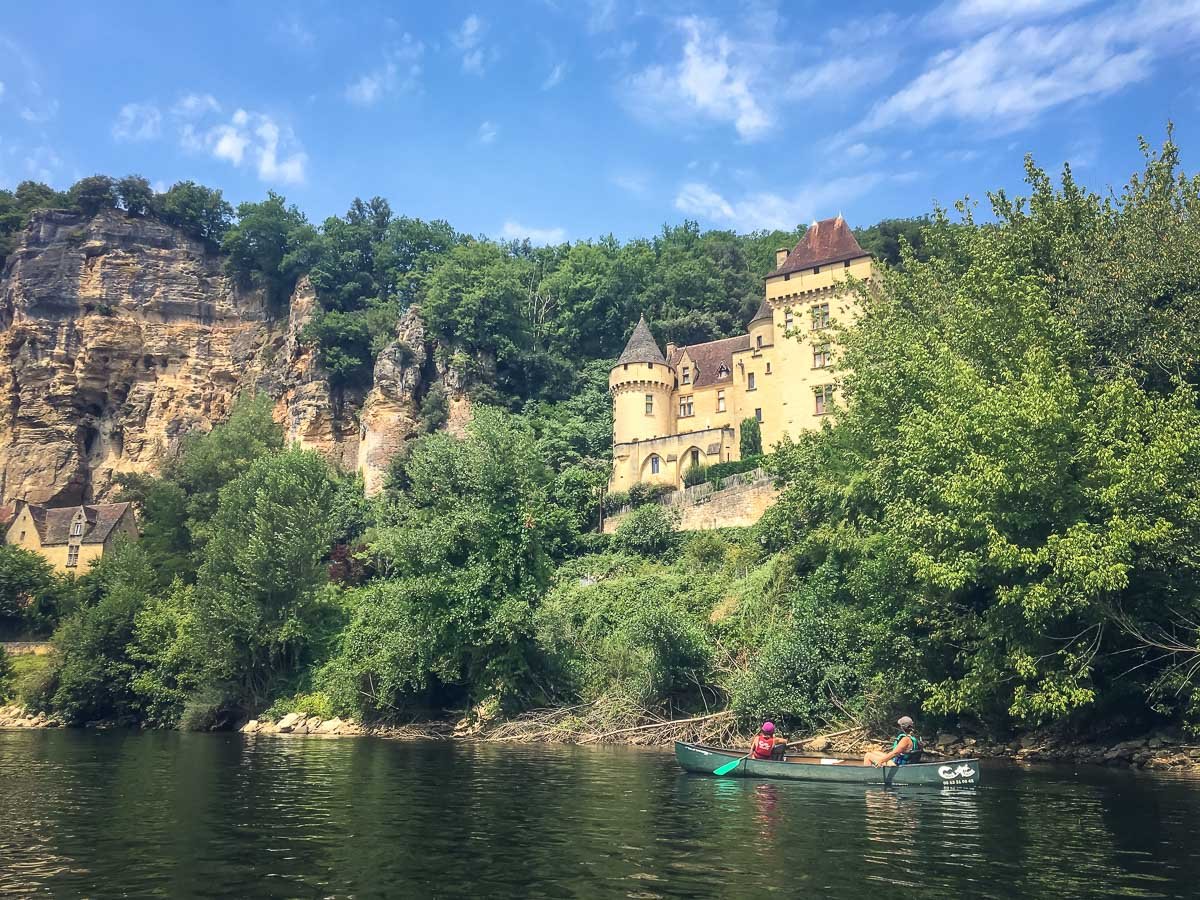 Don't set out for a day on the river unprepared. River shoes are a great option as you will need to drag your canoe in and out of the water. Bathers, sun hat and sunscreen are also a must. Stopping to go for a swim en route is recommended as one part of the journeys delights. There are ample river beaches and pebbled shores to pull the canoe or kayak up on and enjoy the cool water on a warm sunny day.
Take a large bottle of water for your journey as it can get quite warm during the middle and late afternoon. If you want to stop off for a picnic lunch then bring it with you also. However you can always stop in at one of the river side Snack Bars or towns to pick up some morning tea.
Canoe and Kayak Companies Dordogne
There are many Canoe Companies to choose from along the Dordogne River including:
Canoe Raid Cenac. Is our personal recommendation. A family run business on the river bank under Cenac Bridge. GPS coordinates: Lat 44.804828 Long 1.204820
Canoe Dordogne. Located on the beach of Vezac near the Faynac Bridge. GPS coordinates: Lat 44.83267 Long 1.14907
Canoes Roquegeoffre. Departs from St Vincent De Cosse by Minibus to drop off points in Carsac and La Roque Gageac. GPS coordinates: Lat 44.4939 Long 1.0553
Canoeing the Dordogne is a great day out. You need not paddle hard as the current flows fairly well there are only a few minor rapids (more like ripples) to navigate. If you come to the Dordogne it is truely a must do activity.
Where to Canoe on the River Dordogne
Start at Vitrac or Cenac and head downstream to Baynac on the River Dordogne.
Dordogne River Cruises for those that do not Canoe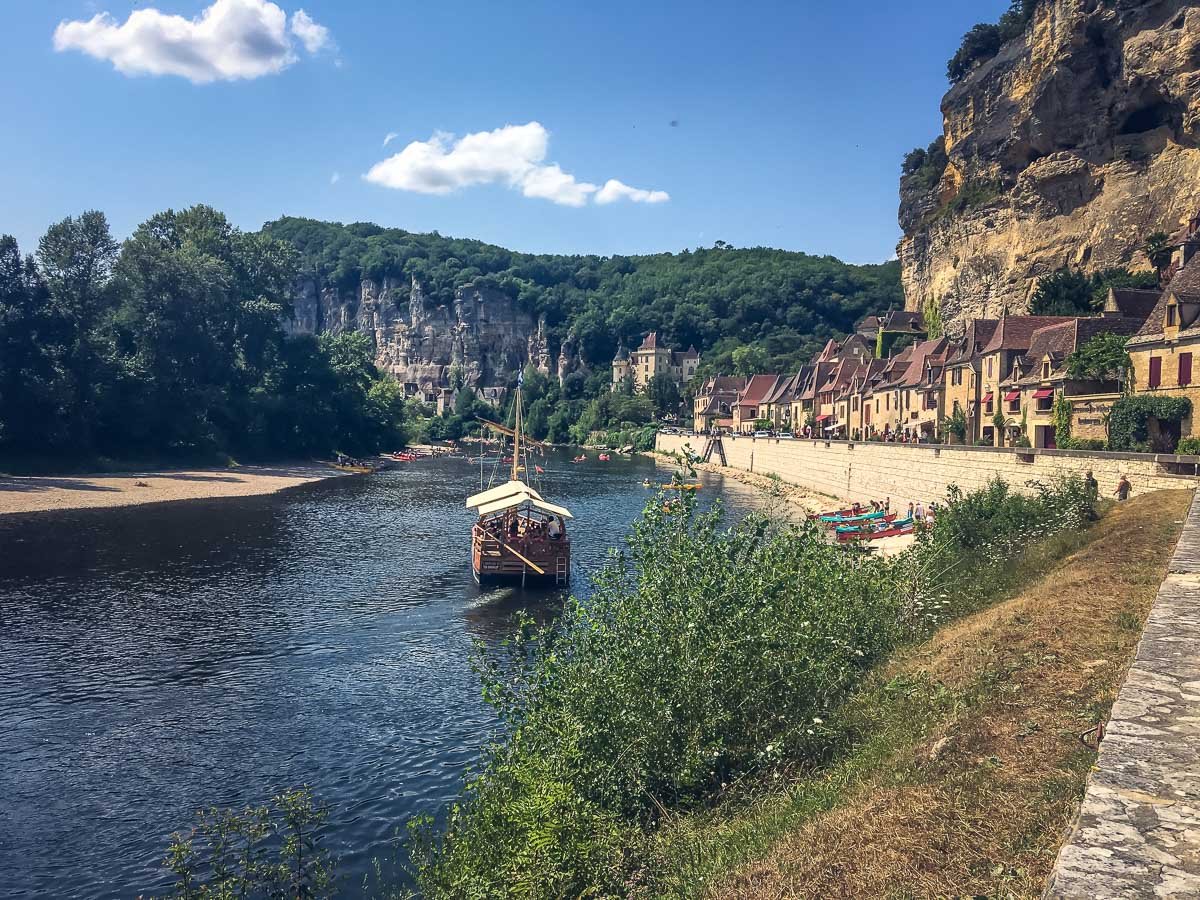 If you have an infant or are elderly and do not fancy a day paddling down the river, you can hop on a barge (Les Gabares Norbert) at La Roque -Gageac. The barges (Gabare) are reproductions of the boats that used to take goods such as Truffles, Fish and Wine along the river in the 1800s.
Its a beautiful way to see this stretch of river down to Castelnaud bridge. The trip is an hour with onboard commentary in French (audioguides offered for other languages) about the River Dordogne, surrounding villages history and traditions.
Where to Stay in the Dordogne
Wether you are visiting for a day or a week, stay on the river. Foodies will want to stay in Sarlat la Caneda or Perigueux. If your a history buff and want to see the prehistoric art (rock paintings) base yourself near Vezere for a visit to Grotte de Lascaux, or Baynac if you close access to the 10 Most Beautiful towns in the Dordogne.
Recommended Aire for Motorhomers in Cenac
If your travelling by Motorhome we recommend you stay in the Aire in Cenac (GPS Coordinates: 44.804094, 1.204827). This Aire has WIFI, Washing, Dumping and plenty of shade. Its a short stroll to a beautiful swimming bank on the Dordogne River and access to the Canoe entry point for Canoeing Raid Cenac. In the opposite direction you can wander into town for dinner and glass of wine.

If you found this article helpful, please leave me a comment below.
Enjoyed this post? Pin to read again later.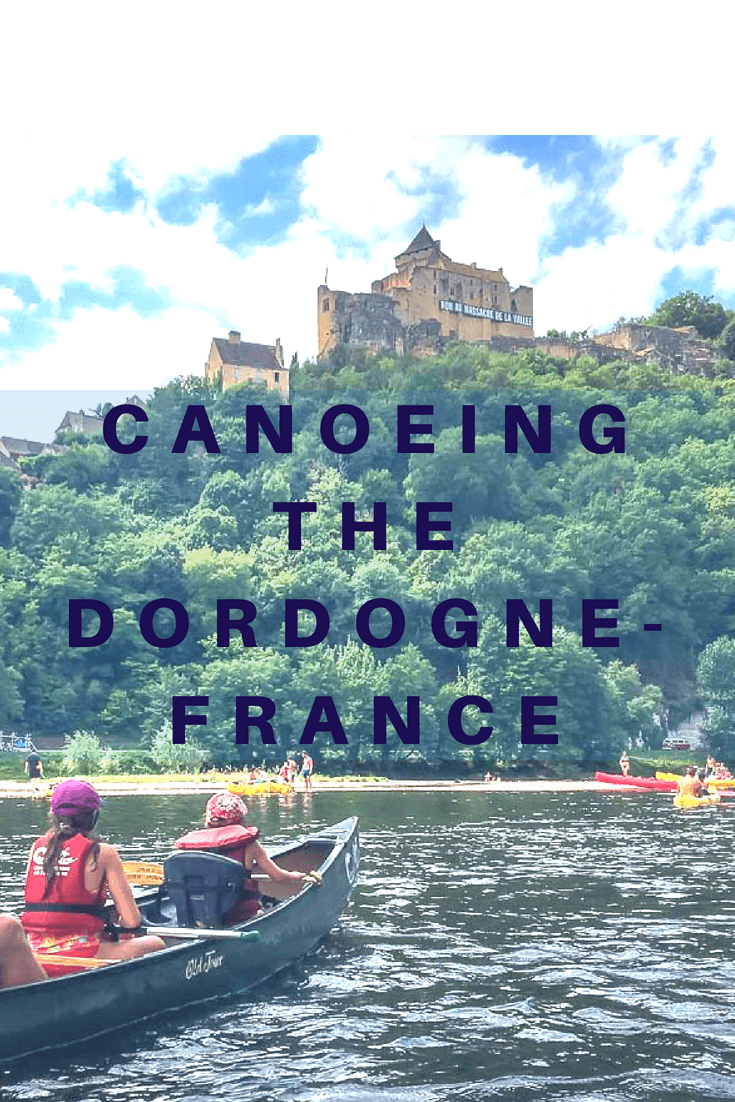 Disclaimer: This post may contain affiliate links, which means we earn a commission (at no extra cost to you) if you purchase something using our link. By doing so you help us improve the free content on this website. Thank you!