When you think of the best places to visit in Amsterdam, well… canals, windmills and tulips all come to mind. Amsterdam is renowned for being an adults destination, but if you look a little deeper, you will find there are ample attractions to excite kids too!
To enjoy all that Amsterdam has to offer for a family, you need to seek out places Mum and Dad as well as the kids will enjoy. Here are the best places to visit in Amsterdam for parents and kids.
Best places to visit in Amsterdam – for Adults (kid friendly)
Jordaan's chic shopping precinct
Jordaans' quaint buildings and narrow streets offers an appealing backdrop as you wander and browse the boutiques, antique shops and art galleries.
Dotted throughout are funky bars and restaurants to stop off for a bite to eat as you enjoy a day of shopping. If your visiting on a Monday, check out the Open Air Market (Noordermarkt).
Museumplein – Hub of Art Museums
Visit one or all in this hub of artistic culture in Amsterdam. Set around a park, the Rijksmuseum, Van Gogh Museum or Stedelijk Museum of Modern Art are an art lovers paradise.
There is usually an exhibition or activity in the square to peruse or you can take a wander in the park.
In winter the square is home to an open air ice rink, which the kids will just love!
Canal Cruise – Day or night
A leisurely cruise on the the canals of Amsterdam to see the network of waterways that make it famous. See the leaning houses and uncover what this 12th century fishing village has to offer.
There are day, night, hop on hop off, dinner or light display cruises on offer. Literally, something for everybody. This is the perfect way to spend an afternoon and learn a little about the history of Amsterdam.
Beer Tasting at a Micro Brewery
The quintessential thing to see when in the Netherlands are it's famous Windmills. This could be a bit of a let down if there was not something extra included! How about a micro brewery to give a windmill the edge.
You can do this whilst partaking in a beer and a traditional snack or two at The De Gooyer in Oostelijke which has a micro brewery (Brouwerij't Ij). I recommend you spend a warm afternoon sitting under the shade of the famous landmark or you could take part in one of their short guided tasting tours.
The Best Places to visit in Amsterdam – for Kids (parent friendly)
You can take the kids along to the above attractions, however, the following sites are specifically geared to engage their curiosity and imagination with a little delve into history to top it off.
Amsterdams' Nemo Science Museum
Kids will get hands-on in this Science Museum. They will love the idea of performing their own experiments or doing a little physics and geometry.
Here their enthusiasm can open up a new world of science and exploration through games and discovery. This museum is the largest in the Netherlands and definitely one of the best places to visit in Amsterdam!
Artis Microba – Amsterdams' Microbe Museum
A tiny world is on display at this microbe museum. The world of microbes is arrayed through body scans, agar plates and microscopic lenses. Kids love all things eeew right!
Well, here they can see it all right down to the microbes on their skin or inside their bodies. Your budding scientist will delight in this adventure and maybe even come to appreciate the necessity of these tiny organisms to their own health.
Amsterdam Dungeon
Get scared out of your wits and have a giggle along with the kids at the Amsterdam Dungeon. Set in an old church you can uncover the history of Amsterdam's brutal past. Real life actors and special effects will bring history to life. Its so real the Amsterdam Dungeon suggests that this attraction is not recommended for children under the age of 10.
As an alternative for those with younger families, it just a short walk down the street to the Madam Tussauds Wax Museum as an alternative.
Ann Frank Museum
Ann Frank's House has been turned into a museum. It's a conversation provoking look into the life and death of the young Jewish writer Anne Frank, her family and friends and what they endured hidden away during the Nazi occupation. But, the Ann Frank Museum is a very popular attraction so I suggest you book ahead and visit early in the day to avoid the long queues.
I believe these are the best places to visit in Amsterdam. it is such a great city with so much to offer families. The whole family can be entertained taking in these sites, so what are you waiting for? Find the Map and Go!
Continue reading about the Netherlands with our guide to Gouda.
What are your favourite places in Amsterdam to visit? Let me know in the comments.
Found this post helpful? Pin to read again later!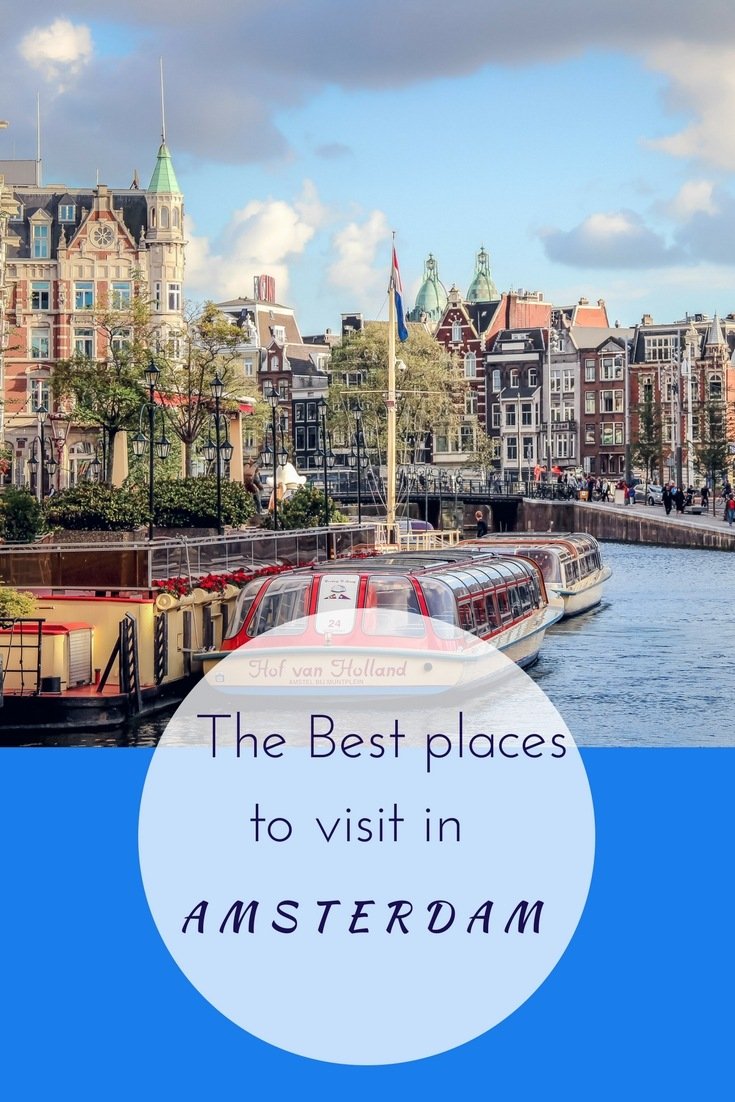 Disclaimer: This post may contain affiliate links, which means we earn a commission (at no extra cost to you) if you purchase something using our link. By doing so you help us improve the free content on this website. Thank you!