ANZAC Day at Gallipoli – Dawn service experience
Attendances at ANZAC day dawn services have increased over the last 5 years. The enduring impact of this iconic moment in history seems to have had increasing gravity over time. There is a definite increase in the desire of a generation of Australian's and New Zealander's to honor, respect and remember our service men and women. As a result many are coming to experience ANZAC day at Gallipoli.
It is impossible to visit without having something stir inside you that will define or challenge you. It has solidified what it means to be an Australian for me.
This is a must see destination and I encourage you to #FindtheMapandgo. With respect I also understand for some it may be the opposite.
ANZAC day At Gallipoli – What to expect
Our family prepared for ANZAC day in Australia by getting some warm clothes together the night before and setting an alarm. This was to ensure we made it to our local dawn service or to a service by the coast. Once the service was completed we enjoyed a breakfast together at the local RSL before heading out with friends.
ANZAC Day at Gallipoli is different for a number of reasons. There are thousands of people making a pilgrimage to the ANZAC Cove. You will be standing on the ground where the diggers stood, fought and fell. It is an overnight vigil with speeches and documentaries throughout the night. The governments involved put a high level of resources in to make the commemoration memorable.
The feeling of national pride, identity and mate-ship lifts over the day as you hear an increasing number of Aussie and Kiwi accents. Questions like, which city are you from become a consistent reminder of your national identity. Expect jibes about which footy team or footy code you follow and the anticipated scoffs from the Kiwis regarding their dominance over the Wallabies in the world cup or their cricket teams lack of sandpaper in their bowling attack.
Experiencing some of the ANZAC spirit
It is easy to see how the ANZAC virtues of 'mateship' and 'got your back' were built between the ANZAC's. Yes the jibes are in "serious' jest but the bond between the two countries was born in ANZAC spirit. A mutual respect is also very evident from the Turkish despite us being on the opposite side of the conflict. There is a strong recognition of positive virtues and resilience from both sides between supposed foe's. The respect and hospitality from the Turkish is second to none. You will enjoy it here we know it. So how is ANZAC day at Gallipoli run?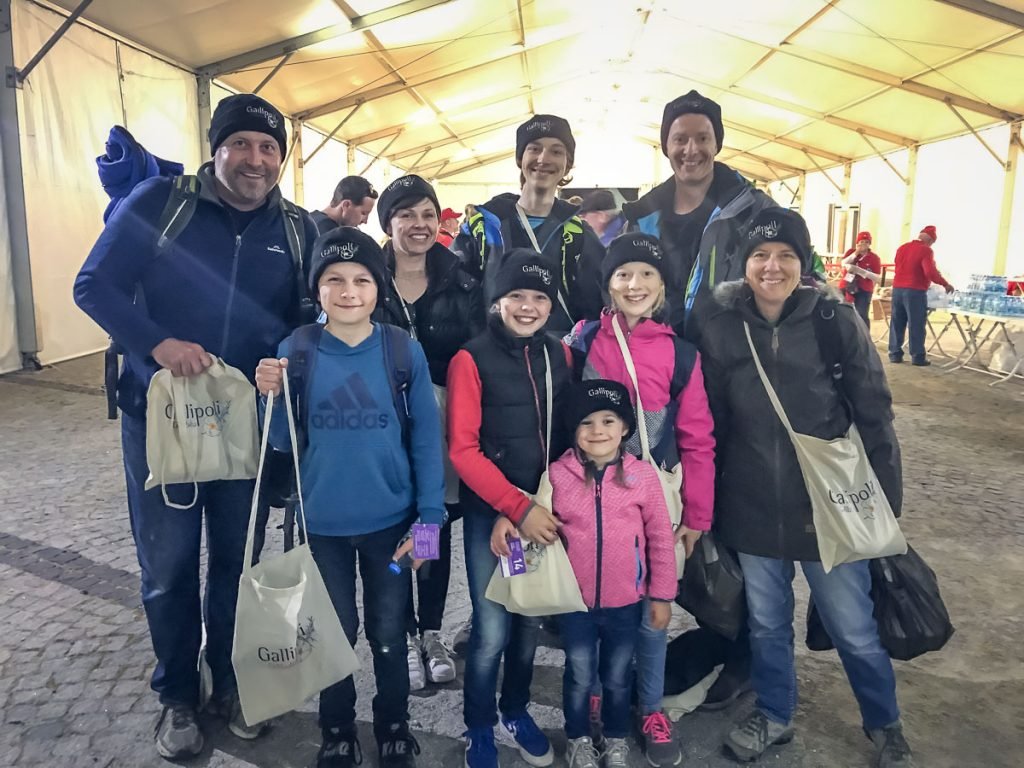 The agenda for the night
The Australian, New Zealand and Turkish government work hard to make sure ANZAC day commemorations are uplifting and memorable
To ensure the commemoration runs smoothly, you will come to ANZAC cove the night before and stay overnight, slumbering on the grass next to the Agean sea at ANZAC cove. This is the same body of water that carried the diggers into the battle over one hundred years ago. ANZAC cove or 'ANZAK Koyu' as the Turkish know it is about 14 kilometers from the closest town of Eceabat in the Gallipoli Peninsular National Park. It is for this reason the organizers prefer attendees to the commemoration to be part of a tour in order to streamline the logistics and bring the vast majority of attendees in by bus.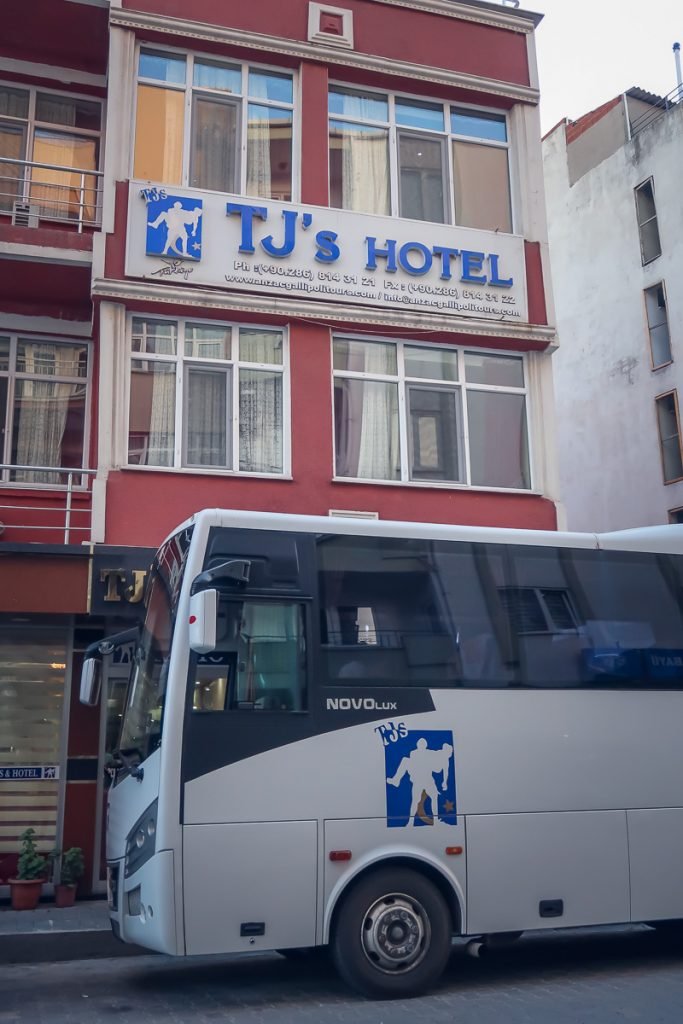 Where can you board your tour
Most tours come directly from Istanbul to ANZAC cove or from the towns closer to ANZAC cove like Eceabat and Canakkale. As you can imagine there are approximately 40 large buses for every 1000 attendees. This means big logistics and lots of checks. When you arrive at ANZAC cove expect airport like security (International Airport level). Bag scans, checks of identity (passports) and passes and even patting down to ensure everyone's safety. This is all expertly done by the local Turkish authorities who are impressive in their ability to ensure the safety of the thousands coming to experience the Dawn Service.
You will be surprised at the number of Australian and New Zealand nationals volunteering at the event to make your experience a great one. As we cleared screening we were greeted by representatives of the New South Wales country fire service, who volunteer to welcome everyone into the cove. The volunteers supplied us with packs including a poncho, beanie and guide to the commemorations. They have plenty of free bottled water also as you cannot take your own bottles in. Liquid larger than 100mls will be confiscated.
Should you bring your children to ANZAC Day at Gallipoli?
We saw two other families who took their children to the service. We were initially concerned how ours would go (Aged 11, 9 and 4). Could they stay out overnight? Would they have the composure to recognize the reverence of the commemoration? Could they walk the 8 kilometers up hill to Lone Pine and Chenuik Bair?
I couldn't be prouder of their engagement and pride in representing their country while attending ANZAC day at Gallipoli. They were consistently recognized and encouraged at all times. Peter Dutton MP also wanted to chat with them giving words of encouragement. He gave a special mention to Lilly who was the youngest attendee. We encourage you to take your kids if you are thinking of going. Be assured there is every support you could need at the service. Our kids were even given Pineapple Lumps (iconic kiwi lollies) by a NZ army service person.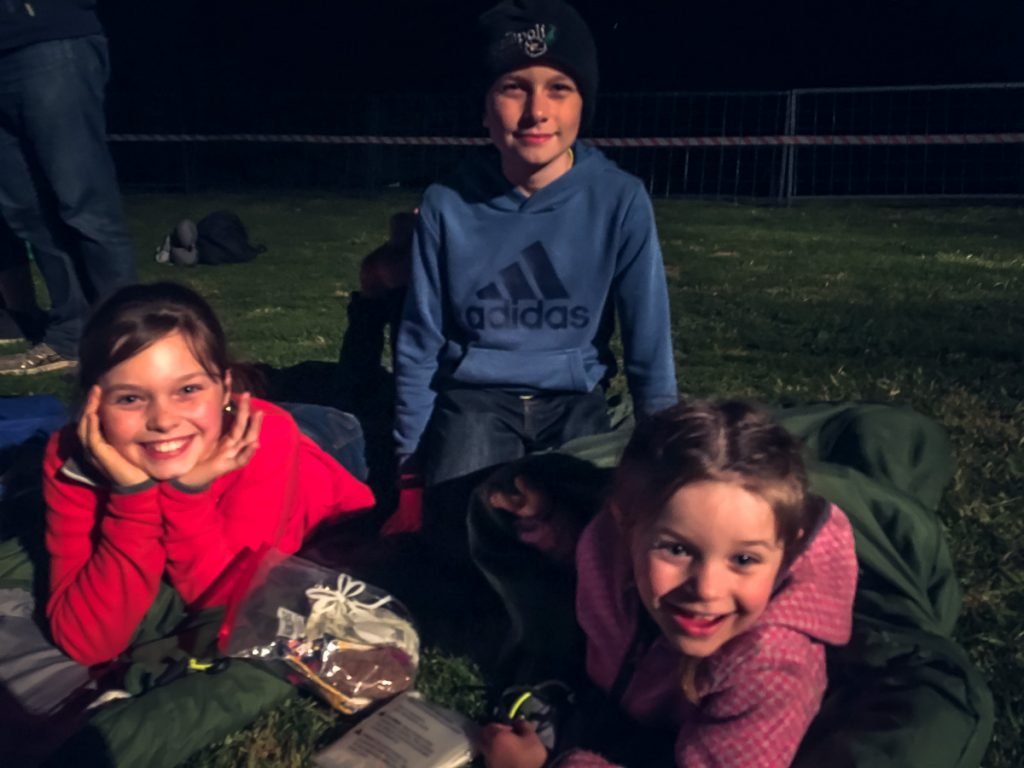 What happens after screening?
Once you move through the screening point, you will have a short walk to the stage area. There is a big screen for ease of viewing, along with very good audio to ensure you don't miss anything. There is a large grassed area at the front for attendees and a seated area for Dignitaries of the official party. Find a place on the grass to settle in for the night to view the many presentations and videos outlining what it meant to be here over 100 years ago.
The agenda is not designed for a good nights sleep, waking refreshed for the dawn service. It is a vigil with presentations and documentaries presented throughout the night to outline the gravity, reasoning and the effect of the conflict on the nations that played a leading role in this war. Although many were tired, we all sat and soaked in the stories and reflected on what happened on the ground directly under us so long ago. There are many different perspectives for each nation and each individual. Some excited by the atmosphere, others saddened but all engaged. Its impossible not to be.
Anzac Day at Gallipoli – The night is a vigil not a chance to sleep. At 3 am those who came to honor and respect lie on the ground where the diggers fought and fell so long ago. The official commemoration begins at 4:15 am with the band and choir performing. The official dignitaries arrive and the service begins.
The ANZAC Service
The service is impactful. It does not sanitize the difficulties faced by the ANZAC's and Turks. It is made personal through stories of individuals that served on the peninsular with names only families would remember, dispersed through stories of individuals like Jack Simpson Kirkpatrick who was shot rescuing a fellow ANZAC and now lies at Hell Spit Cemetery. Best known for his role in saving injured diggers using a donkey to transport them down to the beach for transport to the hospital ships. Literally every soldier who stepped foot here is a hero ANZAC and Turk alike.
Lest We Forget
It is here that I cannot do justice to the emotion and atmosphere of being at the ANZAC site. To look out to sea from the same perspective of the gallant Turkish soldiers. Seeing the landscape that becomes evident as the light breaks the darkness, just as the ANZAC soldiers did. Hearing the bugle call of the last post and to try to sing the Anthem without your voice shaking. If you go, your experience will be impactful and will help you develop a better understanding of the ANZAC spirit. It is impossible to get the same understanding back home.
After the Dawn Service attendees walk approximately 3.5 kms along the old artillery track (unpaved) to Lone Pine cemetery at the top of the ridge. There is an Australian service at 9:30am for all who want to attend. You can also walk a further 3.5 Kilometers to Cheniuk Bair for the New Zealand service at 11:30. Unfortunately you can really only attend one of the two services due to the time it takes to walk between the two.
How far do you need to be able to walk?
The blue line on the map below outlines where you will walk on the day. The topography is steep in places but definitely achievable. Our 4 year old (who we were told was the youngest attendee on the day) completed it unassisted. There is plenty of water supplied on the route and plenty of medical assistance if required.
Assistance is available for those who cannot walk that distance or terrain: Everyone is catered for. My 4 year old was able to complete the walk assisted by the promise of ice cream. If you are medically unable to walk that distance then there are transfers for you. Organizers want all people to be able to experience ANZAC day at Gallipoli and have ensured this can happen.
ANZAC Day at Gallipoli involves a long walk, uphill from ANZAC cove to Lone Pine on the old Artillery track then on sealed road to Chenuik Bair. My only disappointment for the day was to hear some attendees complaining about the distance or temperature of the day. In my mind they missed the point of the walk, which is an opportunity to view the landscape and terrain the diggers faced. There was ample water, food, and support. Disappointing attitudes that hopefully soften with time to reflect.
Where to stay to attend the DAWN Service?
Although it isn't mandatory to use a tour operator both the organisers and we recommend that you do. The local tour operators have the greatest knowledge of the area. They are set up to ensure your experience is a positive one. The majority of tour operators organise travel for attendees to and from Istanbul. You can also stay closer to ANZAC cove at Eceabat, the closest town to the Cove on the ANZAC peninsular.
Where did we stay?
We chose to stay in Eceabat and would recommend TJ's hotel which is aligned with ANZAC Gallipoli tours. We loved that TJ is an actual person. This is not a corporation, more like an extended family. TJ and his team looked after us for the days we were in Gallipoli, providing us everything we needed, nothing was too much trouble. Even organized mates rates on a hair cut for me! If you stay with TJ in Eceabat, your the closest to Gallipoli National Park. TJ is also one of the most experienced ANZAC site guides on the Peninsular.
Speak with your tour company and they can organise or make recommendations for your accommodation in Istanbul, Eceabat or Canakkale.
Top tips for making the most of your ANZAC day at Gallipoli
Use a tour operator: The insight, local knowledge and support they give you is well worth the price.
Stay local to Gallipoli National Park. You will want to take a tour of the battle fields with an experienced guide. The commemoration provides a look but a tour gives you even better understanding. Local operators are the best bet.
Read your documentation a couple of times: This will ensure you are comfortable over night and can enjoy the experience.
Spend time with the locals and chat with people that have been to the commemorations before. They have stories to tell and will help you get the most out of it.
Research before you go and do a tour the day before. At TJ's hotel he has a big screen and plenty of DVD documentaries.
Pack thoughtfully for the event. Ensure you have some options for warm and cold conditions.
Some time to reflect: Spend some time in Eceabat or Canakkale before and after the commemoration. It is an emotional event that is worth reflecting on.
Learn some of the customs and protocols of the commemoration: We have listed some of them below.
If you are a family bring your kids. Its an uplifting experience for them. They are made to feel part of it and are encouraged the whole way.
Stay awake: This is a vigil to learn, honor and respect all that were here in 1915. Sleep the next day as you may only have this experience once.
What do you need to do to get to ANZAC day at Gallipoli:
Your first stop for information on attending the Anzac Day commemorations should be the Australian Government Department of Veterans' Affairs website or the New Zealand Government WW100 website.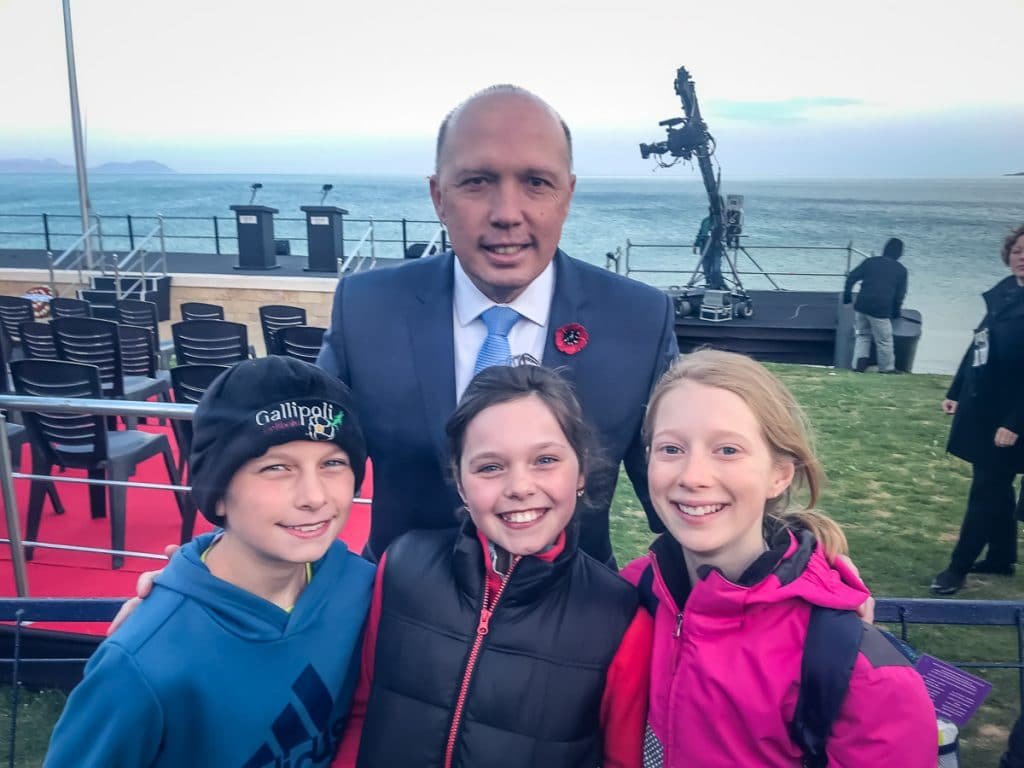 These sites are there to assist people who are interested in attending ANZAC day at Gallipoli. They cover the majority of what you need to know and do to ensure you have all paperwork in order. This includes: How to register, what to know before you depart and Frequently asked questions.
As first time visitors to ANZAC day at Gallipoli we relied on these sites for information and guidance. When you read through them it can be a bit daunting. We weren't sure what to expect or what we could actually bring to be comfortable.
What to Bring on the Excursion to ANZAC Cove Dawn Service:
Each person can bring a bag into the event. Something the size of carry on luggage is acceptable. Remember if your able bodied, you will need to carry all of your gear for 7-8 km uphill. You should pack the following;
Sleeping bag: Compact but warm as it can get to freezing on the peninsular.
Toilet Paper: You can't always guarantee to find paper when you need it.
Change of Clothes: Not s full set but maybe shorts to change into as the day warms.
Some Snacks (There is catering at ANZAC cover and Cheniuk bair – but not at Lone Pine)
Good walking shoes (Definitely not open sandals and flip flops)
Sun Screen and insect spray in small bottles less than 100mls
Sun Hat
Camera
Portable phone charger
A printed copy of your Commemoration pass for entry to the Service.
Passport: This is your principle identification on the day
We were given the following in our welcome packs when we got to ANZAC Cove:

A beanie
A poncho
A booklet outlining the order of service
Access to lots and lots of free bottled water
Security, first aid, hydration and food are well organised. Your main focus should be your own comfort during the overnight stay. Keep in mind that you need to carry what you pack the next day.
FTM Insiders Tip: While travelling you have to ask yourself do you really need a full digital SLR camera? Of course if you can get the best out of one of these cameras then go for it. We use a compact Canon Powershot GX7 Mark 11 for the majority of our shots. Check out our instagram account to see what this little piece of kit can do.
Common Ceremonial Protocols, Customs and Traditions
The text below is taken from the commemorative services guide written by the Department of Veterans affairs. (Service at Gallipoli 2018. P03484). Take some time to understand these traditions to ensure you experience of ANZAC day at Gallipoli is a rich one.
The Catafalque Party: Historically Catafalque was a support for a coffin, but it has come to represent a remembrance stone or tomb. A catafalque party was originally appointed to guard a coffin from theft of desecration. Now it performs a ceremonial role, honoring the dead.
Ode of Remembrance: Many ceremonies include a recitation of the ode, which is the fourth stanza of "For the Fallen", a poem by Laurence Binyon written in 1914. The ode has been recited in ceremonies since 1919.
Last Post: The Last Post is a bugle call which signals the end of the day. It became incorporated into funeral and memorial services as a final farewell. It is symbolic that the duty of the dead is over and they can rest in peace.
One Minutes Silence: The practice of observing one minutes silence originated soon after the first world war. It provides an opportunity for quiet reflection on the sacrifice of those who served and lost their lives.
Reveille: Historically, Reveille woke soldiers at dawn and was historically played on a drum and fife.
Rouse: After one minutes silence flags are raised from half mast to the mast head as the rouse is sounded. Traditionally Rouse called soldiers spirits to arise, ready to fight for another day.
Anzac day at Galipolli is almost a 24hr excursion. Our bus departed from Eceabat at 8.30pm and we arrived on site at the Commemoration site by 11.30pm. We attended two services and walked between 8-10km, departed around 1.00pm the next day. It is an incredible experience, one we recommend you experience for yourselves.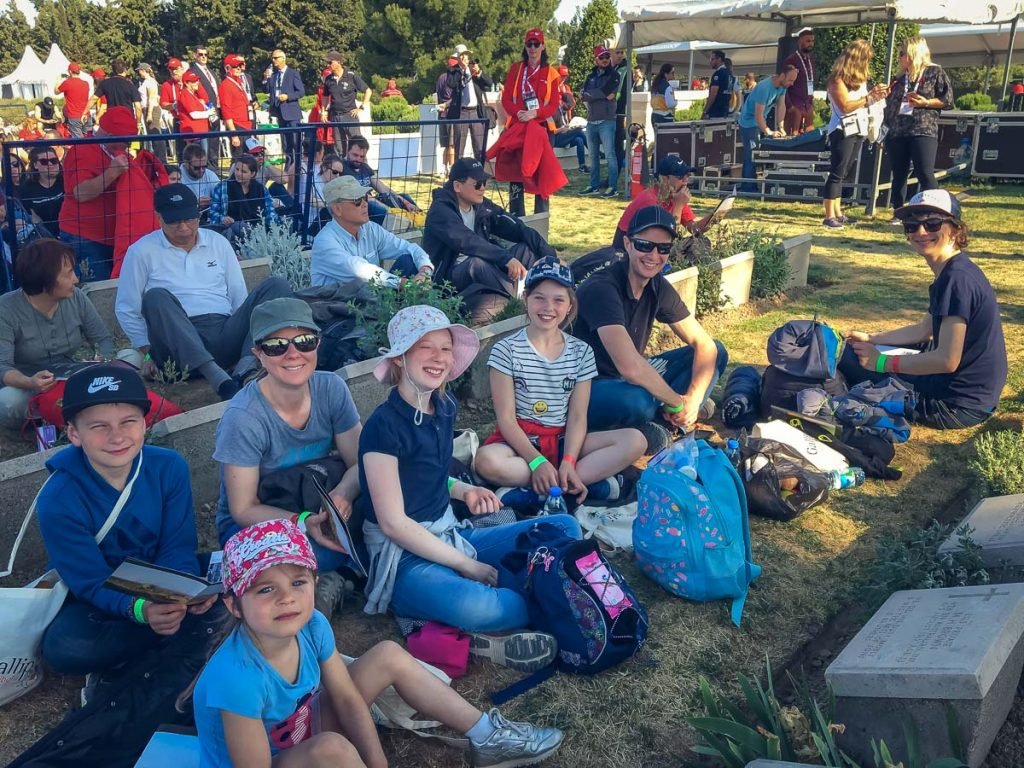 Here is a photo gallery of the event.
Found this guide helpful. Pin to read again later!